Maths Workshop for Parents
We are running Maths Workshops every Monday afternoon in the community room from 1.30pm - 3pm. These workshops are to enable parents to help their children with the Maths they are learning at school - all parents are welcome to come along.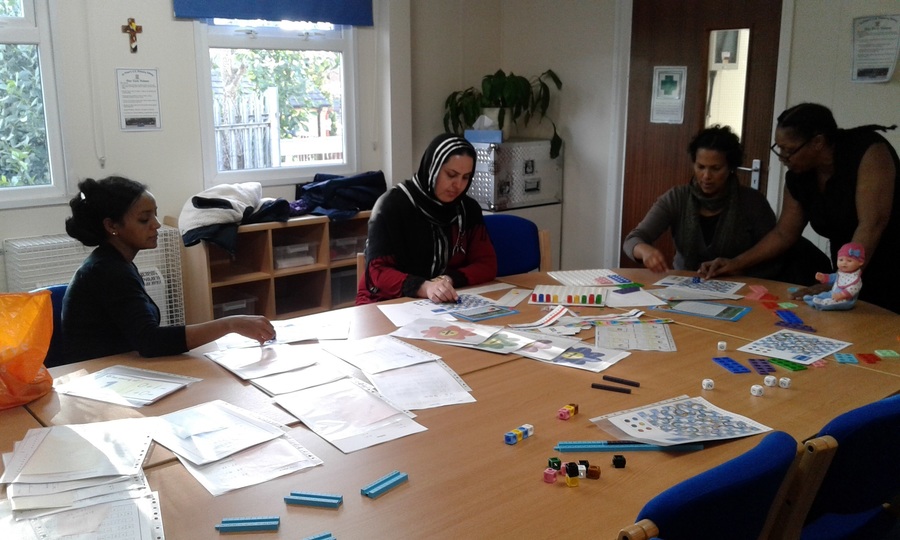 International Week
International week is a wonderful time at St Peter's. During the week the children learned about different aspects of the country their class had chosen, such as It's location on a map, the capital city, a simple song from that country, the main religions and the traditional dress. On Friday, lots of families brought food from their home country to share with everybody and the parents toured the school to see what each class had learnt.
School Councillors 2017/18
The winning candidates were Xavier, Meroan, Ava, Kylan, Leona, Yosef, Chloe Carag and Sinar – Congratulations!
School Council Elections
Today is School Council Election Day at St. Peter's. Between 8:50 and 9:30 this morning, 120 children will visit the school's polling station to cast their vote. One boy and one girl will be elected from each class before the end of the day. The pencils have been sharpened, the voting slips are out ready and Year Six are up to vote first....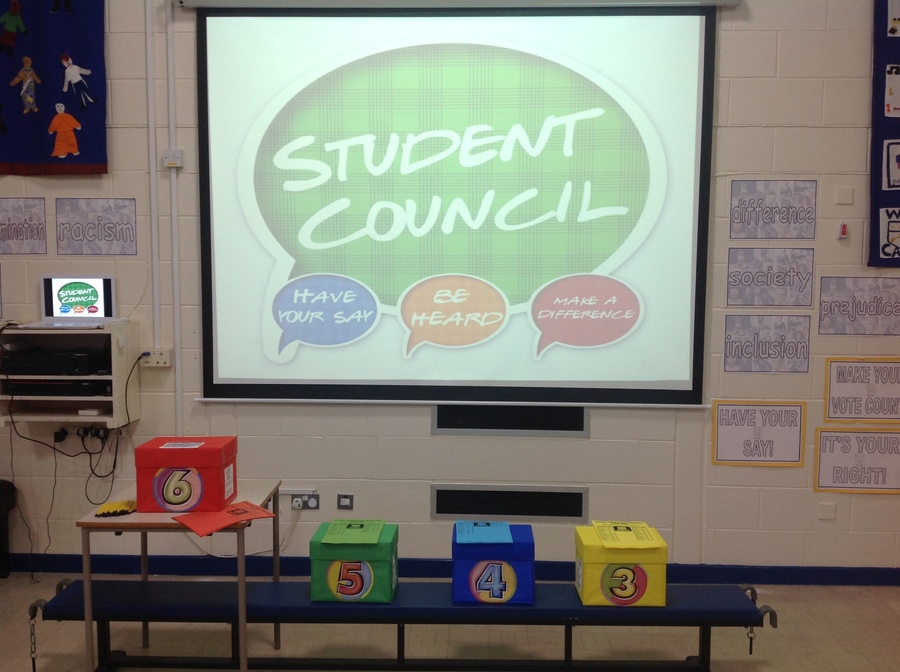 Fish & Chip Friday!
Following the problems with gas in the area last week, Northern Gas very kindly sent a fish and chip van to school to give the children a Friday treat - it was very well received!
Bob Hartman Visits School
Bob Hartman, a renowned American Christian author, spent a day at St Peter's. First of all we met in the hall and Bob told us the whole Bible in one story. After that Bob delivered workshops to Classes 2, 3 and 5.
Planting for Spring
Mr Bates, one of our friends from Headingly Rotary, comes into school once a week and helps the children with some gardening. This week they were planting some daffodil bulbs ready for Spring.
Attendance Winners
Huge congratulations to Class 2 and Class 6 who were the winners of the annual attendance treat! Extra congratulations to Class 2 who have won this prize very year since they were in Reception - keep up the good work!
Fun Day!
Despite the very soggy start to the day, we still had lots of fun and even managed to play in the paddling pools!
Class 2 Go to the Seaside!
Class 2 had a fantastic time in Filey. The sun shone all day so, after a picnic lunch, the children played in the sand and had an amazing time splashing in the sea, followed by ice cream and a sleepy journey home!
Matilda!
This year's summer production of Matilda was a huge success - the children sang and acted brilliantly and the Key Stage 2 choir were also amazing. The 2 steel pan groups also played at the show and demonstrated the fantastic music they have learnt over the year. All the parents were very impressed and very proud - well done everybody!
Stay and Play
Our children who are starting Reception in September came along for a Stay and Play session this week. They had a great time exploring the Reception classroom and getting to know each other..
Burmantofts Gala
On Saturday pupils from St Peter's joined pupils from Shakespeare to take part in a parade at the Burmantofts Gala. The children dressed in their traditional outfits to represent the country they were from. It was a lovely day where thw whole community came together to enjoy games and social activities. many thanks to all the children and families who joined in.
School Council - Promoting the Summer Reading Challenge 2017
The School Council were joined today by two visitors from Leeds City Council, who spoke to them about the Summer Reading Challenge. The children have been given the task of championing reading for pleasure and to promote the use of local libraries.
The Summer Reading Challenge is a free activity, which challenges the children to read and complete six different books during the summer holidays. The children can collect stamps and 'scratch&sniff' stickers as they complete their books. There are gift packs and medals for all children who complete the challenge.
The School Council are now going to prepare posters and an assembly, to promote the challenge to the rest of the children at St. Peter's.
Remember, those who read...succeed!!!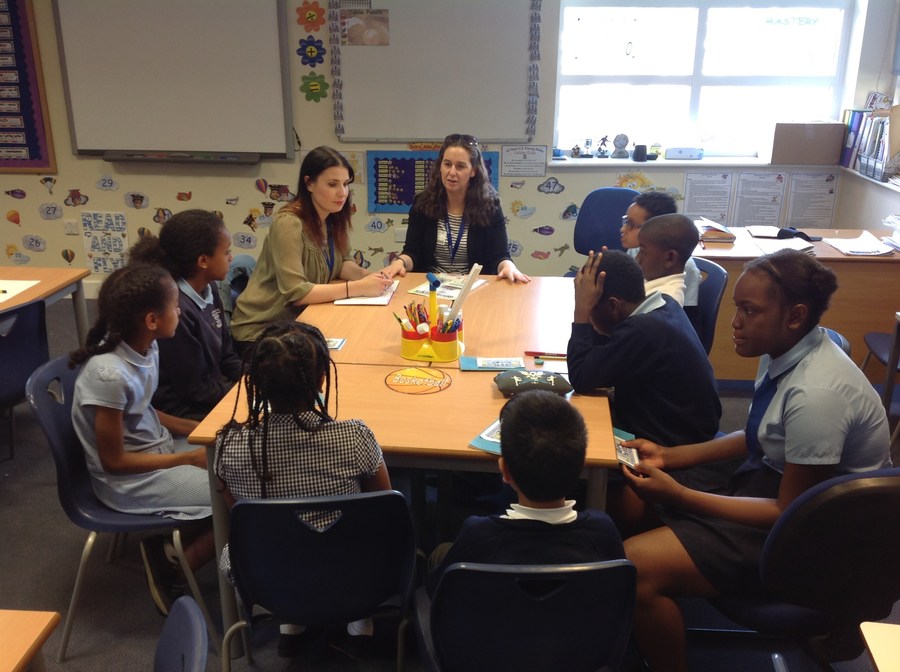 Mrs Holliday and Miss Parry Visit Buckingham Palace
Breakfast Before SATs
Every morning in SATs week, the Year 6 children enjoy a cooked breakfast before school starts. They have bacon and sausage sandwiches, fruit, yoghurts, cereal and juice, whilst relaxing and chatting with their friends.
Parents Visit Reception Class
Reception Class enjoyed a visit from their parents recently. The children shared their library books, which they chose on their trip to Compton Road Library, and the parents also had the opportunity to look at the children's work in their profile books. It was lovely to see so many parents in school.
A Notice from Leeds City Council
Leeds City Council have asked us to share the following information with families:
A consultation is now live asking the city to comment on site options for the proposed Roundhay Park Primary free school.
A free school bid from the Roundhay Park Primary School Trust has been approved by the Secretary of State for Education to provide additional school places in the Roundhay area. There are four sites which have the greatest potential to host the school; however there are issues with each of them. One of these sites is on a part of Roundhay Park so Leeds City Council feels it is right that the whole city has a say on whether it should be further considered for this purpose.
Here is a link to more information about the consultation, including details about how to submit comments by 28 April:
http://www.leeds.gov.uk/residents/Pages/Currentschoolsconsultation.aspx.
Annual Sponsored Walk
On Wednesday and Thursday children visited Roundhay Park for our annual sponsored walk. The children did lots of laps around the park and will now collect money from family and friends to donate to our Lent charities.
Red Nose Day
This year we raised an amazing £160 for Comic Relief. Well done everybody, especially the fantastic girls for selling Red Noses.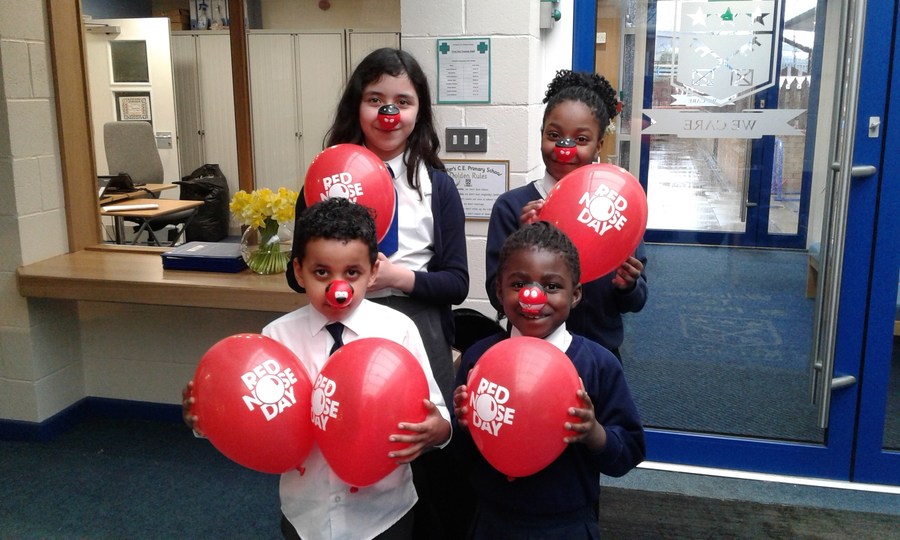 Children announced the winners of their Lent competitions in assembly on Friday. Well done to all the children who entered and raised such a lot of money.


Lent Fundraising
Classes 5 and 6 spent this week fundraising for our 2 charities. They sold biscuits and buns and ran competitions and raffles . They raised £120.00 between the 2 classes.
Children are taking home these money boxes to fill with money as part of our Lent fundraising.


Faith Day 2017
This year the children were in their mixed class groups and treated to a trip around the world, learning how Easter is celebrated in different countries. Their journey took them to Eritrea, South America, Jamaica, Philippines, Eastern Europe and Nigeria.
Story Writing Stars
Each child completed a story at home for homework. Five pupils from each class were chosen for a prize. They could choose from books or writing materials. Let's hope that they are inspired to keep on writing.
Bug Club Winners
During world book week children were asked to continue to read at home using our online scheme Bug Club. All these children completed lots of books and were given a special prize.
Yorkshire Rose Art Project
Classes 4 and 5 recently had a visit from Mr Swidrack from the Yorkshire Rose Art Project. They spent the morning in the hall looking at an exhibition of artwork by famous Yorkshire Artists and then they went on to produce a piece of artwork representing the White Rose symbol. All the children thoroughly enjoy their creative morning.
Pancake Races
On Shrove Tuesday, Classes 3 and 4 went down to Leeds Minster for the annual pancake races. They all had a great time and thoroughly enjoyed eating their pancakes afterwards!
Shrove Tuesday
In assembly we have been learning about Shrove Tuesday. Helen and Amal had a go at tossing pancakes. They managed 20 times without dropping it! We will be visiting the Minster for our annual Shrove Tuesday races with classes 3 and 4 today.
Rotary Recital Winners!
Congratulations to Ara Baki in Class 5 and Alice Mason in Class 2.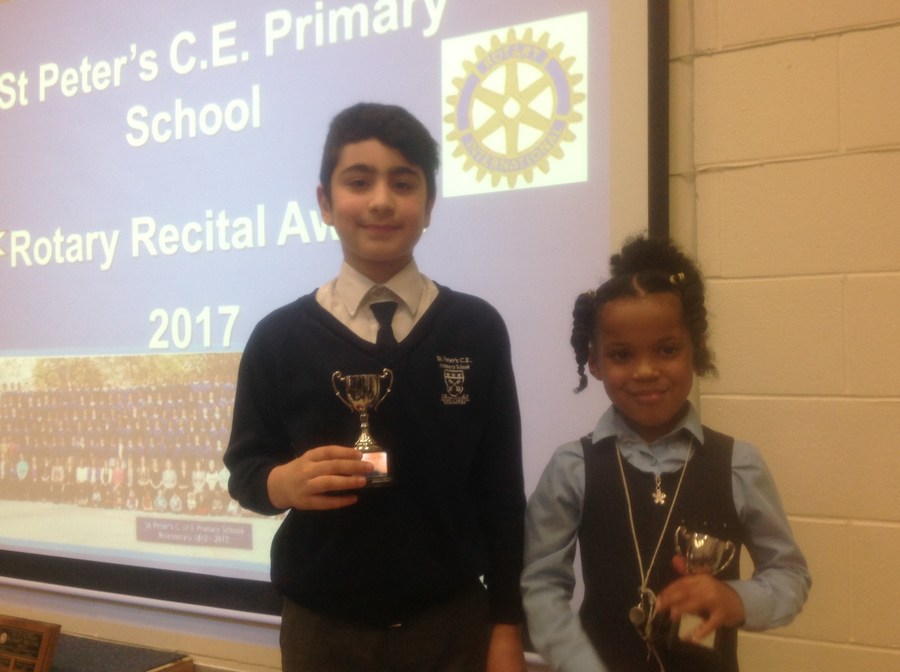 Annual Rotary Recital
Each year, the children in each class work really hard to learn a poem by heart. They then perform their poems to their class and 2 winners from each class are chosen to perform their poem on the stage in front of a panel of judges and the rest of the school. Once again, the children were amazing and performed their poems beautifully. The Key Stage 2 children have also been learning some special songs for the Recital event and these were sung wonderfully on the day - all in all a great afternoon!
Parent First Aid Course
Parents attended a First Aid course run by Thinktank training solutions. The course ran for 3 weeks and Parents learnt how to give care to an infant or child who has been injured or become ill, prior to the arrival of qualified medical staff. Some of the topics covered were CPR, choking, head injuries, burns & scalds, bleeds and minor injuries, plus much more.
All parents who attended gained a certificate and a good knowledge of First Aid. We hope to run another course soon, if you are interested please contact the school office.
Amazing Attendance
Each half term we are going to celebrate how many pupils have had 100% attendance and have been on time every day. One child from each class had their name drawn to receive a prize. Well done to ALL the pupils who have been recognised for their excellent attendance and punctuality.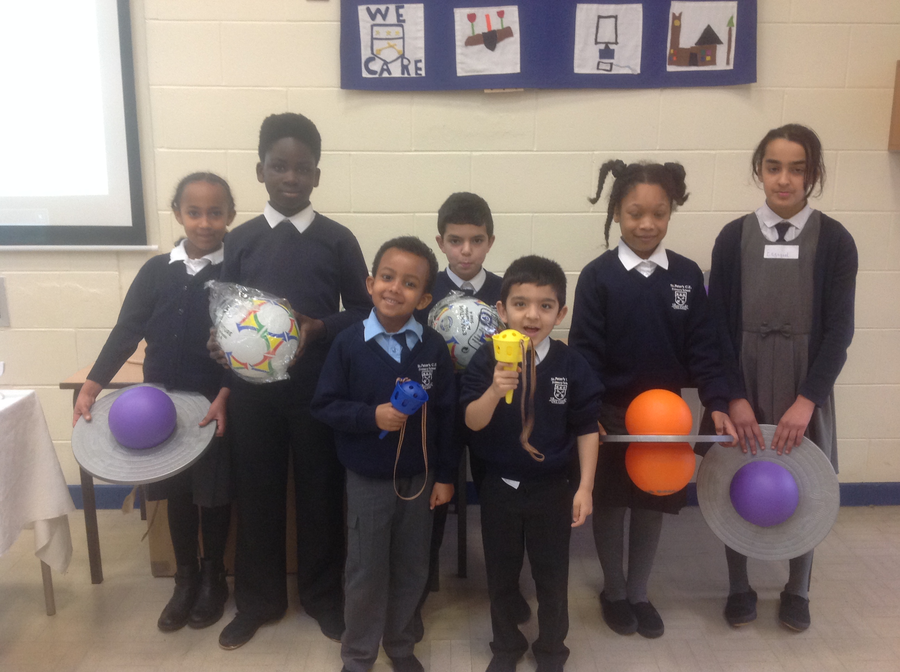 An important letter from Mrs Holliday...
Thursday 26th January 2017
Dear Parents
Keeping Children Safe reminders
Mobile Phone Apps
There are reports in the news today about an e-safety incident involving primary age children from Leeds using an app on their mobile phones. The incident is now being investigated by West Yorkshire Police.
This incident has highlighted a number of safeguarding issues raised recently about smartphone 'apps' including Live.ly, ooVoo, and musical.ly amongst others. These apps are supposed to only be able to access contacts on the user's phones, but it appears that quite quickly unknown individuals are able to join group chats. Therefore, these apps are not safe for children to use as there is a significant risk of inappropriate contact by unknown individuals.
There is some useful information on the LSCB website about online safety with some useful tips for parents here http://www.leedslscb.org.uk/Parents-Carers-Wider-Family/Keeping-children-safe-online.
Message from West Yorkshire Fire and Rescue Service about treating head lice.
"We would like to remind parents and carers to always read and follow the instructions carefully when using chemical insecticide products, typically sold in chemists, to treat head lice. This is because these treatments contain flammable elements. You should not therefore use hair dryers, or any other ignition source such as matches, lighters and candles near anyone during the treatment process whilst the product is being used. This advisory note follows a recent incident in West Yorkshire in which a child's hair was accidentally set alight during treatment resulting in the child sustaining serious injuries."
Yours sincerely
Mrs E. J. Holliday
Key Stage 2 Christmas Party
The Key Stage 2 children had a lovely afternoon, they had games and music in their classes, followed by a party tea in the hall.
Happy Christmas to the Dinner Staff!
Every Christmas, the children sing some Carols for the Dinner Ladies and Cooks a give them each a Christmas present. The children particularly love it when the Dinner ladies give them a big kiss!
Key Stage 1 Christmas Party
The children had a fantastic party, all topped off by a visit from Father Christmas who visited all the children in their classrooms and brought them all a Christmas present.
Outstanding Attendance
During November, the Cluster run a competition amongst all the local schools to encourage excellent attendance. Once again, St Peter's were the winners and our attendance for the month was an amazing 98.9%! Class 5 were the best class in school and they all received medals. The Cluster also put the names in a hat of all the children from all the local schools who came to school every day in November - the winner drawn this year was Nathan Simon in Class 1 and he got a brand new bike! Congratulations everybody!
Key Stage 2 Performance
This year's performance was as wonderful as ever, with amazing singing and dancing, a performance by the steel pans group and the Year 5 class played their recorders.
Reception & Key Stage 1 Nativity
The children sang, danced and acted their hearts out in this year's nativity. Lots of families came along to enjoy the show and all the staff and parents were very proud.
Children in Need
Congratulations to Everybody at St Peter's for raising a brilliant £139.72 for children in Need.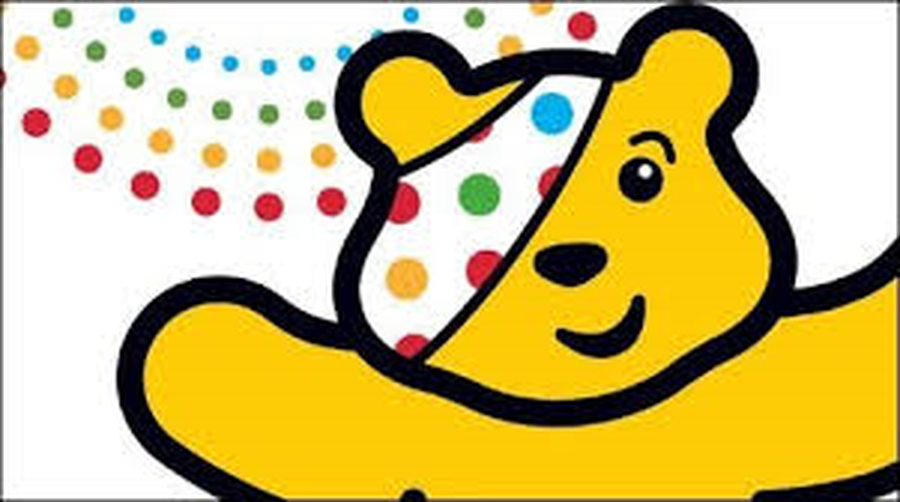 School Council meet the Governors
On Friday 18th November, two school Governors joined the School Council for their weekly meeting. They listened to the children reporting back about the Bookfair, which they organised and about the Pupil Questionnaire, which was carried out in July. The discussion was really interesting and the children appreciated being given a voice to share with important adults.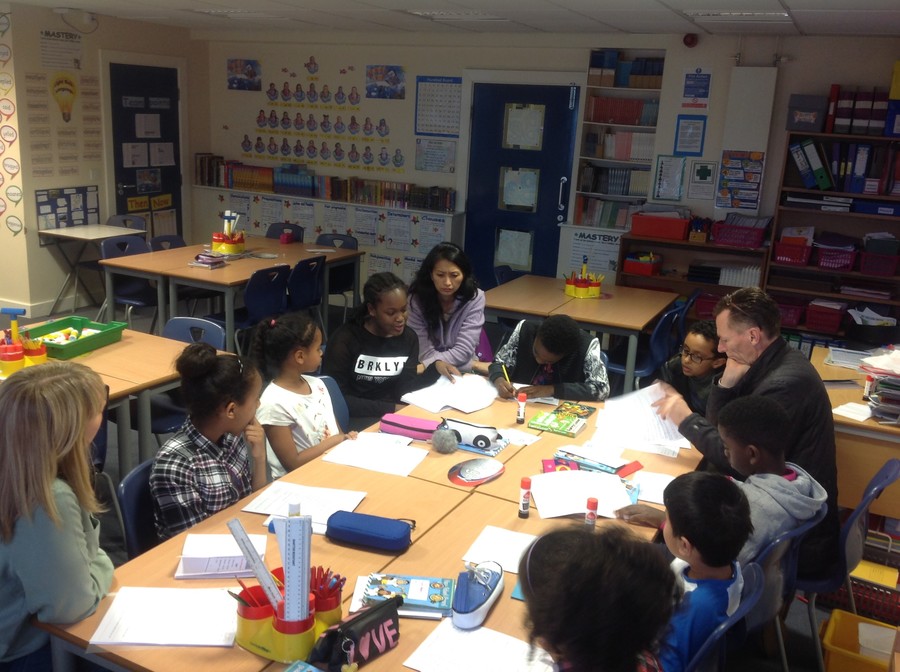 International Week
The children had a wonderful time during International Week, they learnt lots of interesting facts about the country their class had chosen and practiced a song or dance to show the parents. On Friday, lots of parents brought in food from around the world to share with the other families and they enjoyed a tour of the classes to watch the children perform their songs or dances. The children all dressed up in traditional clothes and looked amazing!
Annual Governor Away Day
This annual event is to evaluate the effectiveness of Governors over the past year - sharing the monitoring they have done is school over the year. They also worked in teams to prioritise the areas they are going to monitor in school over the coming academic year.
The New School Councillors!
After the votes were counted, the winners were announced in Friday assembly - Congratulations!
Polling Day!
It was School Council elections last Friday and after some serious campaigning, the polling station was opened!
Steel Pans
A new group have started learning the Steel Pans and are really enjoying the lessons. They'll be practicing hard every Thursday ready for their first performance to parents at Christmas!
Great Gardeners!
Mr Bates, one of our friends from Headingly Rotary, has been visiting school every week to do some gardening with our children. Here, some children from Class 3 are planting onions. When they have grown, the children will use the onions in their cookery lessons.
Leeds Youth Voice Summit
Four of our Year 5 & 6 School Councillors were invited along to Leeds Civic Hall for an exciting event focusing on Youth Voice within the school, the community and Leeds as a City. The children got to meet children from other schools across Leeds, take part in interactive workshops, meet the Lord Mayor and learn all about democracy.
It is our first day at school. We are having lots of fun!
Attendance Winners
This year, classes 1 and 4 won the attendance award and enjoyed a visit from the ice cream van - well done everybody! Attendance overall has been amazing this year - keep up the good work!
Key Stage 2 Sports Day
Despite the heat, the children were brilliant - they all tried their hardest and had a fantastic afternoon. Lots of parents were there to offer their support.
Nursery & Key Stage 1 Sports Day
On the hottest day of the year, the children had a brilliant sports day - they had running races, sack races, egg and spoon races, plus much more. Lots of parents came along to cheer on their children and everyone had a fantastic time.
&nbsp
FS and KS1 Fun Day!
We had a fantastic day! We went on the bouncy castle, inflatable slide, played football with the giant ball, rode our scooters, painted, played tennis AND cooled off in the paddling pools!
Pitch Perfect!
Many thanks to all the helpers who worked to clear the sports pitch at Bridge Community Church this week. When we arrived the pitch was covered in cut down trees which we dragged onto the grass area. After lots of sweeping and tidying up the pitch looked great. Hopefully our pupils will be able to use it in September.
Under 11 Central League Champions 2015-16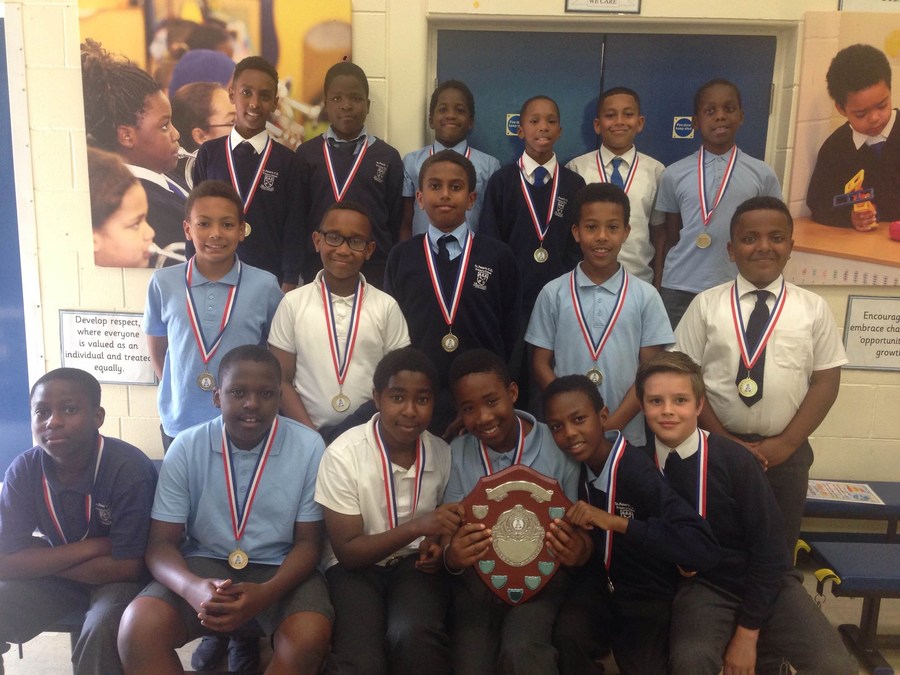 The Golden Mile
Mr Stuart organised a fantastic competition for Key Stage 2. Each class ran the Golden Mile and the fastest runners from each class were chosen to compete against the rest of Key Stage 2. It was a highly competitive event, with some amazing runners. The winners were Lily Bickle from Class 3 for the girls and Mansour Shurkian from Class 4 for the boys. The winning team was Class 4. Well done everybody!
On Thursday 30th June, girls from years five and six played a game of 9 a side football against Ebor Gardens Primary School. They were cheered on by lots of parents and many children from the boy's football team. It was a very close game, with Ebor Gardens coming out on top, with a 2-1 win, despite St. Peter's having the vast majority of the possession and chances.
The team was captained by Paris and our goal was scored by Kyra, who smashed in the rebound from a penalty. The celebrations following the goal were just brilliant! The team was: Laurele (GK), Abigail (GK), Paris (captain), Lemeka, Ilana, Chantelle, Valeria, Abiye, Stecy, Saba, Shameeka and Kyra.
You played an amazing girls and we're all so proud of you!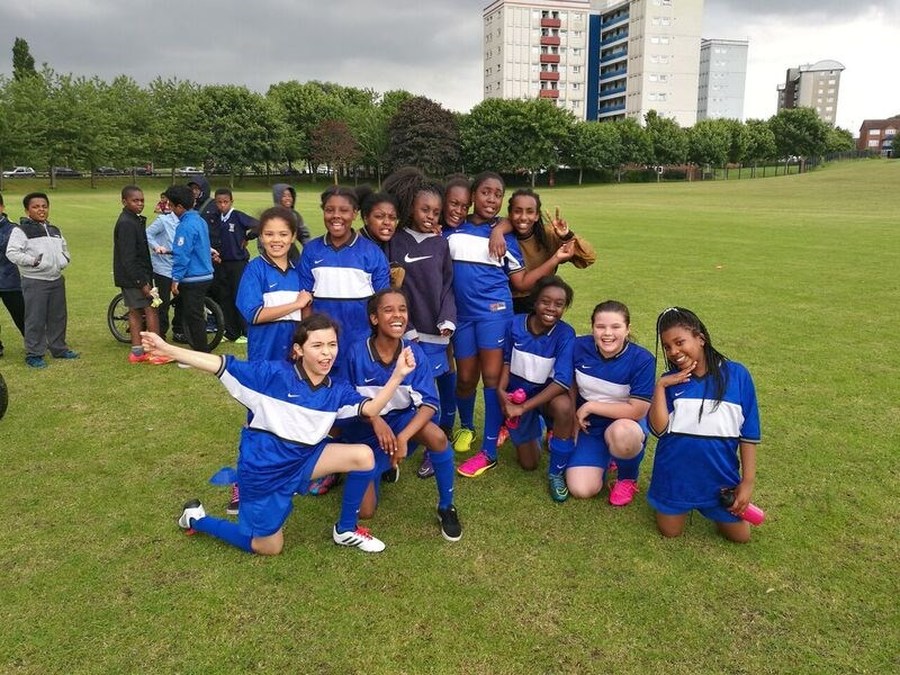 Parents' Group Visit Leeds Minster
Our Parents' Group, which runs every Wednesday afternoon at 1.30pm, enjoyed a recent visit to Leeds Minster. They had a tour of the Minster from Canon Sam Corley and learnt about the rich history of the church.
National Space Centre Sleepover
The Cubs had a fabulous weekend at the National Space Centre. They visited the planetarium, made model rockets, went on an alien hunt and much much more!
Ebony & Ivory
The Year 5 steel pan group have been working really hard - have a look at this video.
Easter Service
At our Easter Service this year, some Year 6 children told the Easter story to the whole school and the Key Stage 2 children performed some beautiful songs that they had been practicing. Lots of parents came along and it was a lovely afternoon.
Faith Day Celebrations
On Thursday 25th February children took part in a Faith day Celebration at school. First the children met in the hall and sang with our special visitor, Bob Hartman. Bob is famous around the world for his work in sharing bible stories with children.
Then the children went into groups and were mixed with pupils from all the classes in school. Each group were given a colour and they travelled around the classes throughout the day.
Each class looked at a different aspect of Christianity:
Bible stories and story telling

Images from around the world of Jesus and his friends

Prayer stations to ask for help, forgiveness and to give thanks

Looking at the life of Jesus and the important events in it

Comparing and making different crosses from around the world

Praising God through song
At the end of the day we all gathered in the hall to spend time reflecting and celebrating what a great day we had had and how much closer we felt to God during the time of Lent.
Rotary Recital Winners
The 2 brilliant winners were Saba Medhane for Key Stage 2 and Naomi Paulos for Key Stage 1 - congratulations!
Annual Rotary Recital
Each year, the children in each class work really hard to learn a poem by heart. They perform their poems to the rest of their class and the winners in each class are then chosen to perform their poem in front of a panel of judges at the Rotary Recital finals. Once again, the children were amazing and performed their poems beautifully. The Key Stage 2 children have also been learning some special songs for the Recital event and these were sung spectacularly on the day - all in all a fabulous afternoon!
Another Win in the Cup!
On Monday 8th February, the Under 11s football team travelled to Menston, where they played in the next round of the cup against St. Mary's Catholic Primary School. After going a goal behind early in the game, St. Peter's quickly got on top and created a lot of chances. With time running out, Joel Owusu managed to pick out Joel Leigh, who equalised from close range. In extra time, Joel Owusu managed to get on the scoresheet himself, curling in a shot from long range. The game ended 2-1 to St. Peter's and that result puts the school into the quarter finals of the Leeds City Schools Cup. Meanwhile in the league, the boys remain unbeaten and now top the league with a game in hand. Two more games against local rivals, St. Patrick's and Shakespeare await. Hopefully two more good performances are just around the corner. Mr Robertson and Sam Leigh are both incredibly proud of the effort made by all of the boys and girls at football club this year. Together, we really are a winning team!
Poet Visits St Peter's
For the second year in succession, performance poet, David Harmer, joined us in school, to launch our annual poetry recital competition. He was brilliant as always and gave the children lots of inspiration ahead of preparing their own poems to perform in their class semi finals. As you can see, the children got involved in David's performance and made wonderful Batman, Robin, Stinkerman and Smellboy characters!
St Peter's are Attendance Winners!
The Inner East Cluster ran a competition throughout November for all the Schools in our Cluster to see who could achieve the highest attendance. St Peter's were the winners with 98.7% and Class 5 won the highest attendance within the school. Mrs Morton, the Attendance Officer at the Cluster came along to our assembly to present the Trophy to the school and medals to all of Class 5.
Well Done Everybody – a Fantastic Achievement!
Key Stage 2 Party
The children had a fabulous Christmas party, with lots of fun and laughter - not to mention cakes and treats!
Father Christmas at St Peter's!
Reception, Class 1 and Class 2 were really excited when Father Christmas came to visit school. He brought them all a lovely present too!
Singing to the Rotary
Our friends at The Rotary invited some children to sing at their annual Christmas lunch. Some Year 5's and 6's went along and performed beautifully. Also, Mrs Holliday was awarded a special fellowship by the Rotary for her excellent work at St Peter's.
Key Stage 2 Christmas Performance
Once again the Key Stage 2 Christmas performance was a triumph! The children worked really hard and the parents enjoyed fabulous singing, dancing and acting.
Key Stage 1 Nativity
The Key Stage 1 nativity was a huge success and lots of parents came along to enjoy it. Well done to all the children - it was an excellent performance, with lovely singing.
Dental Student Visit
We had some Dental students visit school recently. They are doing a study to find out at what age children can clean their own teeth. Our children were a real help and enjoyed having lovely purple smiles!
Taking Over Burmantofts
Our school councillors had a fantastic opportunity to work with the Burmantofts Housing Office to see how the local area could be improved. They walked round the area spotting areas for improvement and then reported their findings back to the Housing Manager.
Street Dance Show
The St Peter's Street Dance Crew took part in a show to celebrate 15 years of Dazl. Lots of parents turned up to offer support and the children were amazing!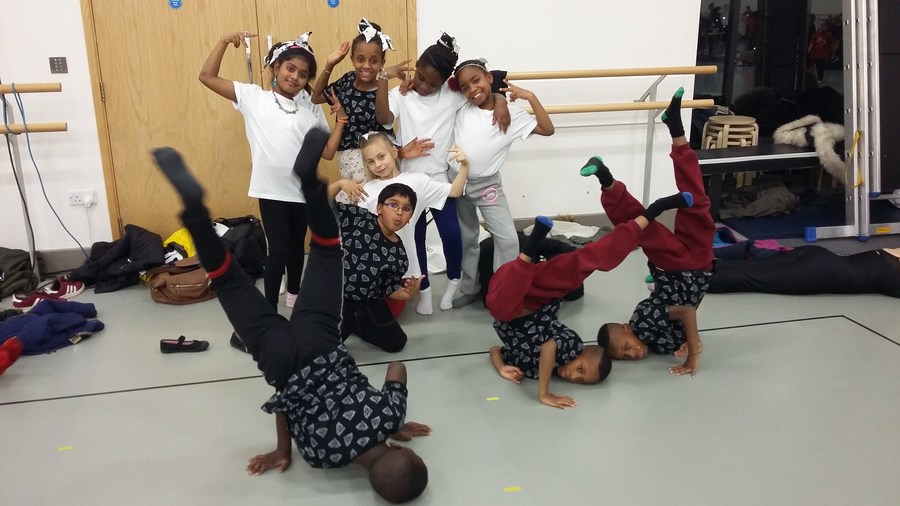 Disco
The children all had a fabulous time at the Disco - there was some fantastic dancing!
Children in Need
The children (and staff!) all enjoyed Children in Need day - we had a non uniform day, sold spotty biscuits and covered Pudsey Bear in small change - one member of staff even wore a Pudsey Onsie!
International Feast!
Our annual International Week was a huge success yet again culminating with parents coming into school and bringing traditional foods for everyone to try. The parents had a lovely time and visited all the children's classes for a display of what the children have been learning throughout the week.
Gospel Choir Finale
At the end of the all the Workshops there was a performance for the whole school - Joel from Class 6 joined the singers for their final song.
Gospel Choir Workshops
A Gospel Choir visited school this week and did a workshop with each class. The children loved it and the singing was amazing. Here are some clips of the class 6 boys and girls singing beautifully.
International Drummers
As part of International Week, we had two drumming workshops in school; Key Stage 1 learnt Indian drumming and Key Stage 2 learnt African drumming. It was a very noisy day!
School Councillors
Congratulations to Naomi, Joel, Trust, Saba, Rakshith, Jedidah, Deryck and Priscilla - the 2015/16 School Council Team!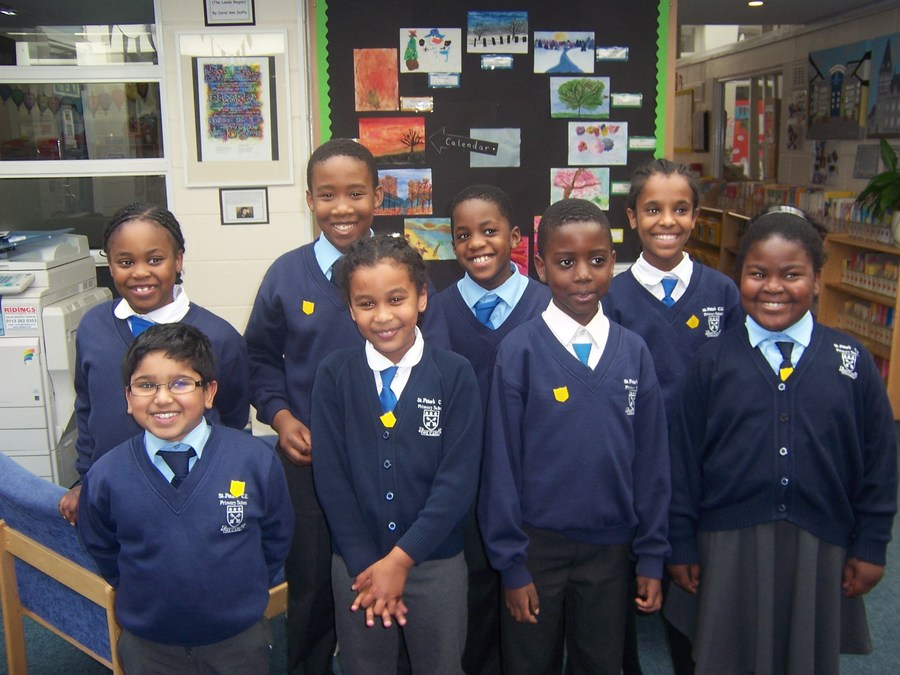 Polling Day!
School Council Elections at St Peter's were very professional this year! Class 2 set up a polling station in the hall and all the children in key stage 2 cast their votes and placed them in the ballot boxes, ready to be counted.
Reception Home Learning Packs
We held a meeting for all Reception parents to give out bags with lovely resources which will support children's learning in Reception. We were also able to provide some sets of resources for our Tigrinya speaking children. Many thanks to the Inner East Cluster for the funding for these amazing packs.
Open Morning
Lots of parents of children starting school next September came to look round school this morning. Some lovely Year 6 children gave them a tour of school and answered all their questions.
Wow! Look at our playground!
Our new playground is fantastic! All of the children have had a go and love it!
End of year fun...
We had brilliant fun days to celebrate a brilliant year! The sun eventually shone and we had a great time.
Celebrating Attendance
The winners of a visit from the ice cream van this year were Reception and Class 6 - their attendance has been amazing and the ice creams were thoroughly enjoyed!
Spanish Day
The whole school had fun on Spanish Day, dressing up in red and yellow like the Spanish flag and having fun with singing, counting, colours, games and art work. In assembly we sang the school song in Spanish and did some hand jiving to "La Bamba".
Mrs Swailes cooked tortilla with some children from year 4.
Miss Trew and year 5 had a lovely paella display.
The whole day was a lot of fun and we hope to repeat the success next year.
Maths Workshop
At a recent maths workshop at the Grammar School at Leeds, Shameeka and Tre'von showed off their amazing maths skills and both received 2 certificates for their excellent work - what superstars!
New Minibus
We are so lucky to have been provided with another school minibus! We share both buses with All Saints' Primary and this allows both schools to be able to take whole classes out on trips in our very own buses! We are extremely grateful to Variety, the Children's Charity, as well as Endless LLP, the sponsors of our new bus - this will make such a difference to our school!
Strange Discovery
After Friday's strange footprint find, the children made an eggciting discovery at the start of the new school week. As the gates were opened, the children poured onto the playground to discover a huge egg, hiding in a nest in the garden area. Quite eggstraordinary!
New Reception Class Visitors
We recently welcomed our new pupils into school who will be joining us in September. Whilst Mums and Dads joined us in the hall for an introduction to school, the new children spent time with their new teacher, Mrs Smith. We had lots of helpers from year 6 who greeted the families, showed them to class, served tea, sold uniform and even modelled some uniform themselves. They were a brilliant help! The new pupils came back smiling and we look forward to meeting them all again in September.
Unusual Footprints
Following the school's Eucharist Service on Friday 26th June, a number of footprints were discovered in the entrance area. Very strange indeed....
Comic Relief Fundraising
A huge thank you to everybody, we managed to raise a whopping £348 for Comic Relief - well done!
First Aid Day
We had a First Aid Day when the children learned all about what to do in an emergency. Years 1 and 2 learned about how to phone 999, Year 3 and 4 learned about how to put people into the recovery position and Year 5 and 6 learned about CPR.