Fundraising Activities
For the next week Class Six will be fundraising at playtimes, in the hope of raising at least £100 towards their trip to Robinwood in May. This trip is very heavily subsidised and therefore the children think that this is a great way of showing their generosity.
Poetry Recitals
Class Six held their Rotary Recital semi-finals in class this morning. All children learnt a poem of at least 18 lines in length. The finalists will be announced later....
Life in Leeds During World War II
On Wednesday 24th January, Class Six visited Thwaite Mill for the day. When there, the children learnt all about how the mill was used to make putty from chalk and linseed oil during the Blitz. They also were taught all about rationing, 'Dig for Victory', 'Blackout' and air-raids, which included having to squeeze into an outdoor Anderson Shelter. The day ended with every child making a model gas mask of their own.It was a fantastic trip!
Merry Christmas from Class 6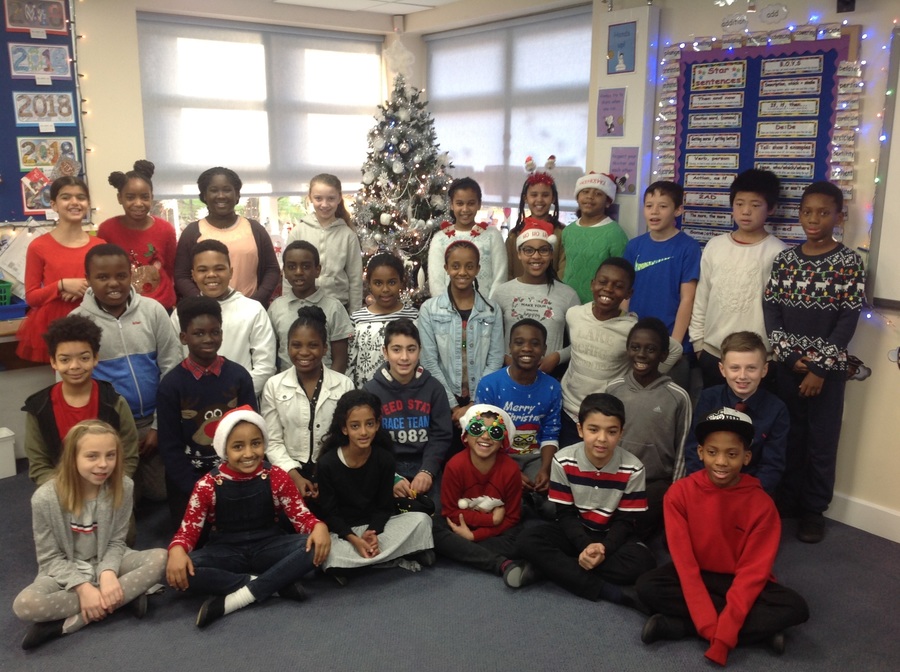 Colours of the Spectrum
Class six are doing a bit of work about light. Today we learnt about Isaac Newton and how he used a glass prism to split ordinary light into the seven colours of the rainbow. We then made spinning discs, which, if spun quickly, blended the spectrum colours to produce white.
A Class Six Winter Wonderland
Class Six have been busy making different decorations for the classroom during the last week. All children have made a card based on the story of the Nativity, a 2018 calendar, a winter ornament and a piece of artwork about the story of Babushka. The class have really enjoyed the activities and for the next two weeks the classroom will look very festive.
Road Safety
This afternoon, we were joined by a representative from Leeds City Council, who delivered a very important session about road safety. In a week where five youngsters tragically were killed in a car accident in Leeds, this was a timely and very important reminder about the dangers that our roads pose.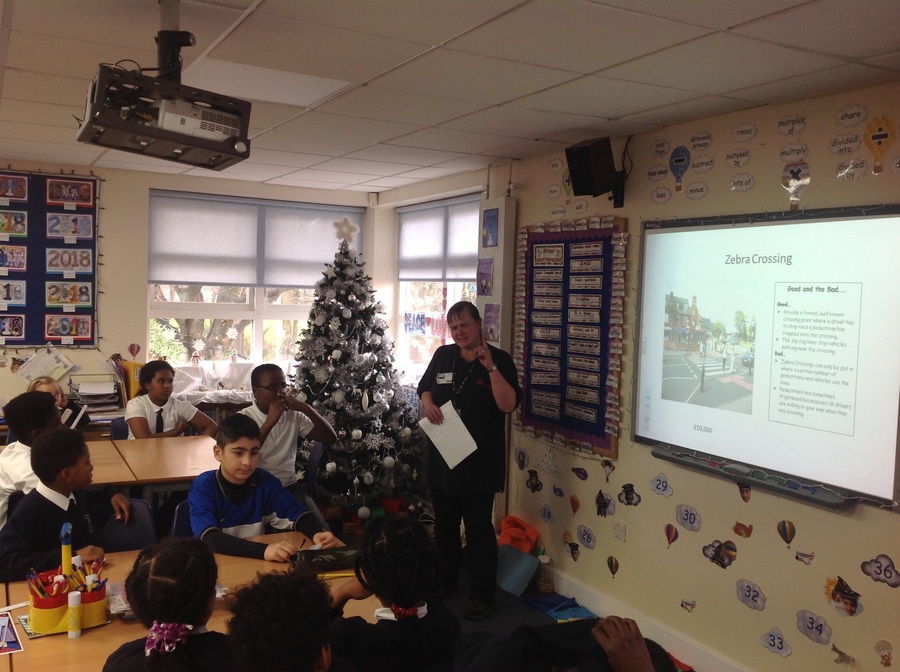 Brilliant Biographies!
After a few weeks of hard researching, note-making, draft writing and publishing, all children in Class Six have completed a biography for a chosen person and all thirty are now up on display in the classroom. Work to be immensely proud of!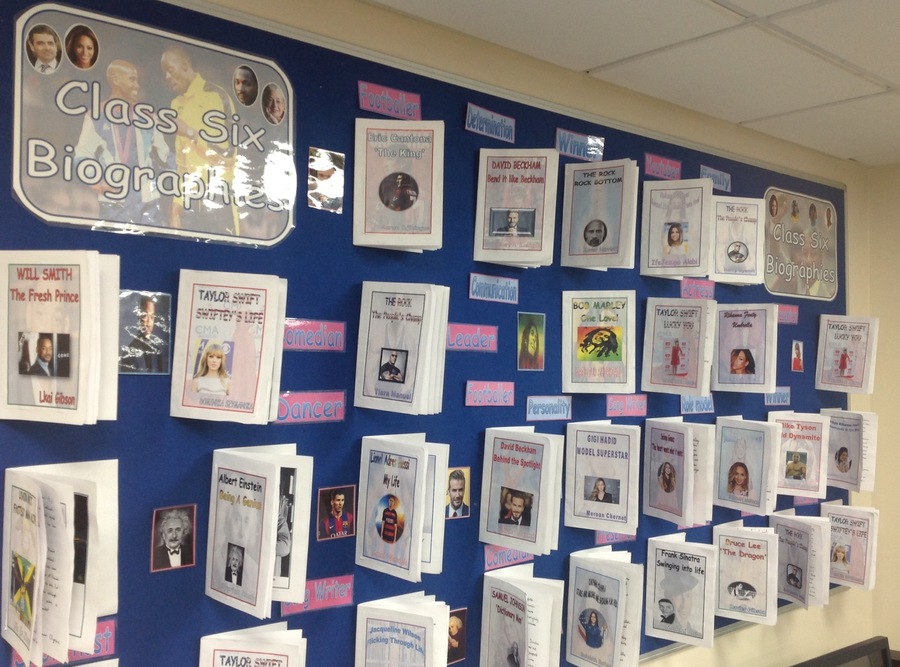 Stephen Lawrence Assembly (Black History)
Class Six opened Black History month at St. Peter's, with an excellent assembly all about the life and tragic death of Stephen Lawrence. The children delivered the story with great emotion and talked sensitively about the values of fairness and equality for all. Mr Robertson, Miss Trew, Miss Comrie and Mrs Rushfirth, were all very proud of the children involved.
100% Again!
Class Six had 100% for a third week in succession last week. Their treat was half an hour of biscuit decorating. They had thirty minutes to make as many biscuits as they could, before deciding on a sale price. They then decided who would sell the biscuits and talked about how they'd like to spend the profits, following the sale of the biscuits tomorrow.
100% Attendance
As a result of having 100% attendance during the first two weeks of term, class six chose hot chocolate, marshmallows, squirty cream and Oreo biscuits as their reward. We had a lovely time enjoying the reward at the end of a morning of hard work.
Gym Time
The apparatus was out for P.E today and we had a lot of fun!!
Biographical Big Writing
On Friday 15th September, Class Six had a full morning session on Big Writing. They spent time carefully writing about the life of a fictional character, Lewis Walker. They wrote in detail about the troubles of his young life, including the traumatic day in which Lewis got a terrible facial scar. Mr Robertson was very proud with the children and their efforts to produce top quality written work.
St Peter's Girl's Football
St. Peter's Girls beat St. Patrick's Girls 2-0 in a friendly match on July 4th. Shameeka scored both of the goals and the whole team played absolutely brilliantly. Mr Robertson and Sam are both very proud of you all girls.
Our favourite photo was the one taken at the end of the game, with all the girls mixed up in the photo and having a good time with one another. Both sets of girls were a credit to their parents and to their schools.
Drug Awareness
Dave from D:Side visited Class Six today to discuss the important issue of drugs. He explained the differences between medical and non-medical drugs and the children learnt about the effects that several drugs can have on your body.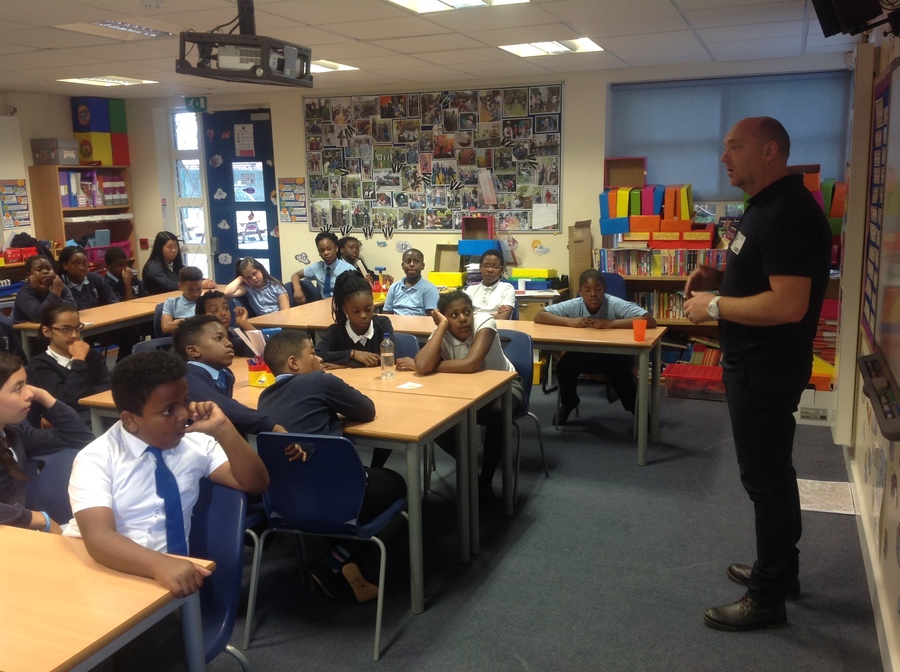 Sex & Relationships Education
As part of the year six PSHCE curriculum, the children receive two sessions from Jos, a local nurse and friend of the school, who educates the children in different areas associated with growing up.
Today the children learnt about health and hygiene, as well as changes that occur within our body throughout puberty.
Day 3
We've had our breakfast and now we're getting ready for our final three activities at Robinwood. All three groups will be doing canoeing and raft building on the lake this morning!
Good Morning Everyone!
We're all up and raring to go....no problems in the night. Time for breakfast...a long, long day ahead!
Day 1
Unpacked and ready to go! Class 6 were straight into their activities and they all had a brilliant time - lots of happy, smiling children!
We've Arrived!
The children have all made it to the castle at the top of the hill and now they're busy making their beds and getting kit bags ready ahead of today's activities.
Ready for Residential
The sun is shining and all the children in class six have arrived at school this morning with smiles on their faces. We can't wait to get going. Robinwood here we come....
What is Stress?
To help the children to keep calm and relaxed ahead of their SATs tests, two visitors from Mellow Nest came and carried out a session all about stress. We learnt about the different parts of the brain and how they behave when we encounter stressful situations. We then tried out some meditation, where we focussed on breathing. Finally we created a class action plan which we can use to help us stay calm and sleep well before the test week.
Reading Week
During our reading week, we celebrated our collective love for stories. Children were given the opportunity to share their favourite books with the rest of their class friends. We had several whole class reading sessions, where we read 'Pig Heart Boy', an exciting yet controversial story by Malorie Blackman. We also held an exciting story writing competition, where the children completed a short story after being given a choice of three interesting story starters.
Light Travels in Straight Lines
Today, Class six used LED Source Devices to investigate light travelling in straight lines. The children found out that light reflects from a mirror at the same angle at which it is originally shone.
WWII Experience at Thwaite Mill
On February 7th the children in class six went on a trip to Thwaite Mill, where they were able to experience what life might have been like as a child living in Leeds during World War II. Whilst at the mill the children learnt about rationing, 'Dig for Victory', Evacuation (air-raid sirens and Anderson shelters) and about how the mill used to produce putty from chalk and linseed oil (for holding windows in place during the Blitz). We had a truly magnificent day and learnt so much!
Reading Club
This week at Reading Club, a group of year six children used iPads to access Bug Club: an online reading resource where pupils can select books to read from their own mini library.
Drug and Alcohol Awareness
As part of our work on drug and alcohol awareness, Class Six worked in groups, sharing their thoughts and knowledge of different types of drug. We agreed that some drugs are illegal and some can be very useful, if used correctly. The children rotated around the classroom, contributing their thoughts to the different posters on display.
Super Snowmen
Class six made snowmen ornamental decorations, using potatoes and modroc. We had a great time. More pictures of our winter wonderland to follow....
Krispy Kreme
Class Six visited the Krispy Kreme doughnut factory in Birstall during November, as a way of starting a writing project all about the Krispy Kreme company and the amazing doughnuts they produce. The children learnt how different doughnuts were made and they even got to make a chocolate sprinkles doughnut of their own. They were literally finger-licking good!
Sangria Sums
As part of one of our International Week Numeracy lessons, the children worked in mixed groups to prepare a Portugese Sangria (using grape juice instead of wine) drink, by measuring out several flavours of juice drinks and weighing out three types of fruits. It was extremely refreshing!
International Week
This week class six have been learning about Portugal. We have learnt lots of fabulous facts about this European country. We were also privileged to spend some time with Silvia's mum, who kindly came in to help teach the children a traditional Portugese dance. The children will perform the dance to visitors on International Day, this coming Friday.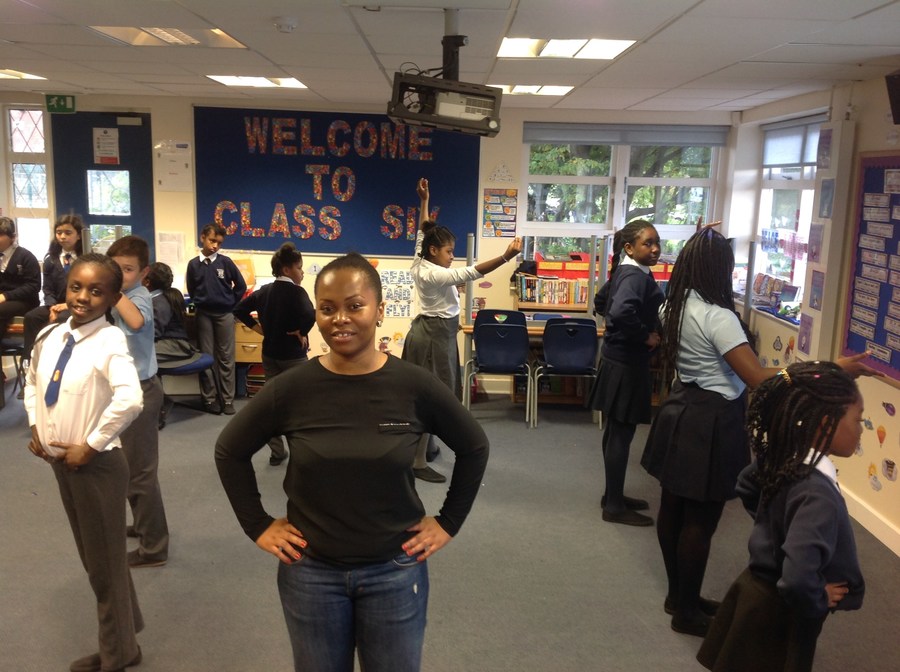 Bikeability
This week, the class has been split into two groups, with fifteen children at a time, taking part in a Bikeability course. Some children were new to riding a bike; others were more confident and even had the chance to ride on the roads. At the end of the week, all the children in the class will be presented with a certificate, which will show the skills the children have been able to demonstrate.
Three Part Harmony
In our music lesson this week we used tuned percussion to develop a three part harmony to a song we have been learning in class. The children performed their rhythms as part of a whole class ensemble. It sounded fantastic!
Attendance Reward
Class six have started the year by winning the attendance award in four of the first five weeks of the term. Mr Robertson treated the children to hot chocolate and marshmallows, for the brilliant commitment they have shown to being at school every single day. After 23 school days, the class six attendance stands at an amazing 99.93%.
Guided Reading
A lovely way to start the day... All the children in Year Six are eagerly participating in this week's Guided Reading sessions. We are currently studying three stories, all set in the time of World War II, The Blitz, The Silver Sword and The Boy in the Striped Pyjamas.
Super SIX sunshine skipping session
Mrs Brady organised a fantastic skipping day for all the classes in school and Year Six were given some really hard skills to try and develop. Some of the children displayed a natural talent. We had a fabulous time.
Class Assembly
On Wednesday 28th October Year Six performed a class assembly all about he life story of Barack Obama. They shared the American President's childhood experiences, the journeys he made and the difficulties he overcame on his way to becoming the 44th leader of the USA, the first African American leader of this vast country. The children performed fantastically and all the staff were extremely proud of them. Thank you to all the family and friends who were able to come and support the children.
Class Assembly
On Wednesday 28th October Year Six performed a class assembly all about the life story of Barack Obama. They shared the American President's childhood experiences, the journeys he made and the difficulties he overcame on his way to becoming the 44th leader of the USA, the first African American leader of this vast country. The children performed fantastically and all the staff were extremely proud of them. Thank you to all the family and friends who were able to come and support the children.
Calculating Blood Flow
Class six had their Tuesday science lesson outside, where the children drew around each other and with the knowledge that blood flows through arteries at a speed of 40cm each second, they calculated how long it would take for blood to floor from the heart to the toes and to the tips of the fingers.
Brilliant Big Writing
Class six started their biography projects by writing a mini-biography for a fictional character from America, who had experienced a difficult childhood but who went on to make a real difference to the lives' of others. The children used a speaking and listening session to develop the life story of this character and then used their notes in a really relaxing Big Writing session. What a fabulous start to the year they've made!
On Friday 1st July, Class Six were visited by Dave from the D:Side team. They spent the session improving their awareness of drugs. They looked at which drugs are legal and illegal, what they're made up of and the effect they can have on the human body.
Goodbye Paris
Today Class Six said goodbye to Paris, who will start her new school-life at David Young Academy next week. You've been a star Paris. Good luck for the future!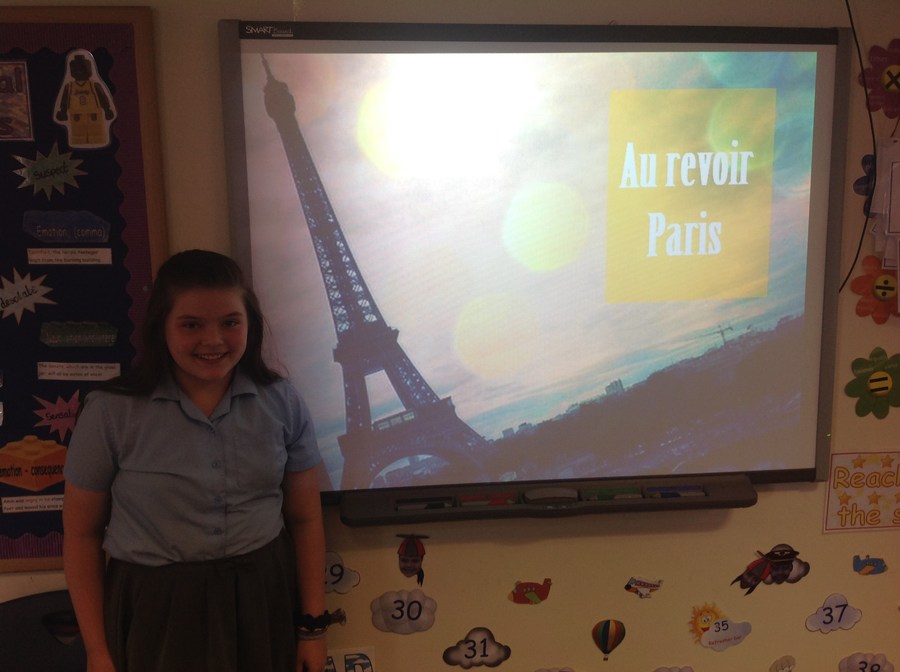 Krispy Kreme!
Class Six visited the Krispy Kreme Factory in Birstall, to learn all about how their world famous doughnuts are made. They now have a really deep insight into the history of Krispy Kreme and they know lots about the different flavours of doughnut that are on offer. To make the day even sweeter, the children were allowed to dip doughnuts in chocolate and cover them in sprinkles. They then got to eat them in the Krispy Kreme café. The children are now going to come back to school and complete their writing projects about doughnuts!
Day 3 and we're all still smiling...
Day 2 and the Fun Continues...
Day 1 at Robinwood
Smiles all round on the first day at Robinwood. The children have been brilliant and are having an amazing time.
The calm before the Robinwood storm....
There were 30 very excited children in school this morning! They set off on time and arrived safely at Robinwood ready for the day's adventures!
Year Six Synagogue Visit
On Tuesday 17th June, Class Six visited the Etz Chaim Synagogue in Moortown, as part of their current R.E work about Judaism. They had a full tour of the synagogue, ficus sing on its very important features. The children learnt a great deal from this session, which was kindly organised by Miss Trew...
SATs over... And breathe!
The children took a well-earned break after their final SATs test and chose to watch a film to relax. They are all very excited because this afternoon they will be presented with their scripts for the Summer production! Exciting times!
Mr Robertson is so proud of all the children in Class Six. What a week!
Breakfast Club
All the bacon sandwiches have been eaten! Now the children are having cereal and toast to accompany their last minute revision. We're all so proud of you Class Six!
Crazy Circuits
As part of our science topic on electricity, Class Six built several circuits using a range of components: cells, wires, bulbs, motors and buzzers. The children discovered what happens when more cells (batteries) are included within a circuit.
Light Travels in Straight Lines
Today, Class six used LED Source a Devices to investigate light travelling in straight lines. The children found out that light reflects from a mirror at the same angle at which it is originally shone.
World War II Trip to Thwaite Mill
Class Six recently visited Thwaite Mill in Leeds, where they spent the day learning about life as a child and at the mill during the Second World War. The children took part in several small workshops and they learnt all about evacuation, rationing, 'Make do and Mend', 'Dig for Victory' and air-raids. The children were also able to find out how the mill was used to make putty, which was used to secure windows during the Blitz!
We had a fabulous day and it was great to bring such an important topic to life!
Rotary Recital!
Class Six held their Semi Finals on Friday 5th February. All children recited poems of 16 lines or more and did a brilliant job.
Congratulations and good luck to the two finalists...Danny and Saba. You were terrific!
Fundraising for Residential
Class six carefully decorated biscuits, which will be sold for 20p each on our fundraising day on Friday 5th February. We had a great afternoon and hope to make a fantastic profit.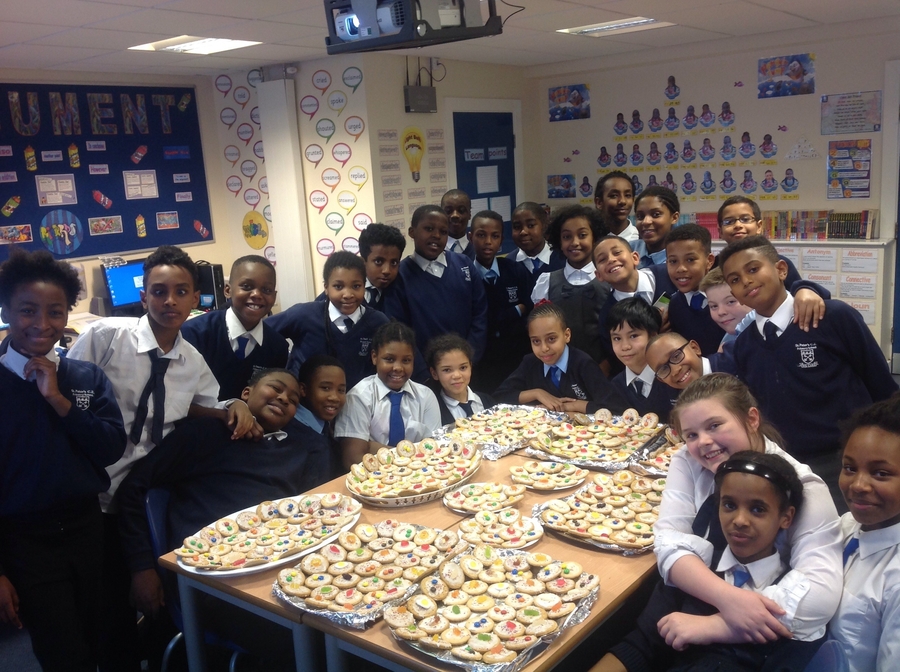 David Harmer Visits Class 6
David Harmer joined us in class to deliver a workshop which was all about writing our own poems to perform to others. We started by writing 'Five Lies About a Table' before producing our main piece of work, all about describing Pirates. We picked up some fabulous tips during the session. Enter text...
Graffiti...Art or Vandalism?
A local graffiti artist, Stephen Lamb, visited Class Six for a whole day, to share his knowledge and expertise on the subject of graffiti. We watched a graffiti demonstration from Stephen, before going into three activity groups. We researched tags and graffiti styles, talked about whether graffiti is a form of art, vandalism or both and we used special spray guns ands stensils to create our own 'Banksy'. We had great fun and learnt an awful lot, which we will be able to use in our current literacy topics out balanced arguments.
11 Today!
Joel celebrated his 11th Birthday at school today. He worked hard with his mum to produce this stunning cake. Happy Birthay Joel. Have a great weekend!
Model Snowmen
As part of their Christmas craft work, Class six created modroc snowmen....out of, believe it or not, potatoes! Every child produced a very unique snowman and collectively, they have made a beautiful winter wonderland.