Philosophy
Class 3 taking part in group discussion in their philosophy lesson about bravery and courage this week.
Brilliant Bonfire
Year 3 watched a bonfire and sparklers in the school playground and thought about what we could see, smell, hear and feel. We even got to taste a jacket potato and bonfire toffee (yum!) and then we wrote detailed descriptions of the experience.
Capoeira
The children enjoyed the capoeira dance workshop which was organised as part of International Week. We all enjoyed learning about the origins of capoeira and having a go at some different moves!
Bread Making for Harvest
As part of our harvest celebrations, Year 3 made a harvest sheaves out of bread. We made one for each class which we then gave out during the Harvest Assembly. They were great fun to make (and eat!)
Chocolate Adverts
Class 3 made some adverts to promote the chocolate bars they designed and made. Well done to each group.
Converting media.
(Media will continue converting in the background)
Harlow Carr Trip
Class 3 spent a lovely day at the RHS Gardens of Harlow Carr in Harrogate. The enjoyed a morning of den building in the woods and exploring all the lovely activities on offer. After a picnic lunch, the children walked around the beautiful gardens and admired the colourful plants.
Meeting Bishop Paul
On Wednesday Morning all the children in Class 3 went to Leeds Minster to meet Bishop Paul. He spent time talking to them and they asked him lots of Questions. Whilst the children were at the Minster they also took part in some other interesting activities demonstrating the job of a Bishop. Bishop Paul said he was very impressed by the knowledge, spirituality and behaviour of the children.
Easter Workshop
Class 3 had a fabulous morning following the story of Holy Week at Leeds Minster. There were 6 stations in the church each having a different part of the Easter story to explore. There were lots of pictures and artefacts and then the children did reflection and bible based activities.
Remember Remember.....
As part of their topic learning all about Bonfire Night and why we celebrate it, Class 3 decided to bring the story to life by having a real bonfire night experience! The all stood around the bonfire, eating jacket potatoes and toffee and they even enjoyed some sparklers - they had a great time.
Skipping Day!
The sun was shining for Class 3's skipping day. They thoroughly enjoyed the styles of skipping they were taught and got lots of brilliant exercise!
Pup on the Pitch
This group of year 3 pupils have really enjoyed reading this football story book in guided reading this half term. They are excited about getting the sequel next year.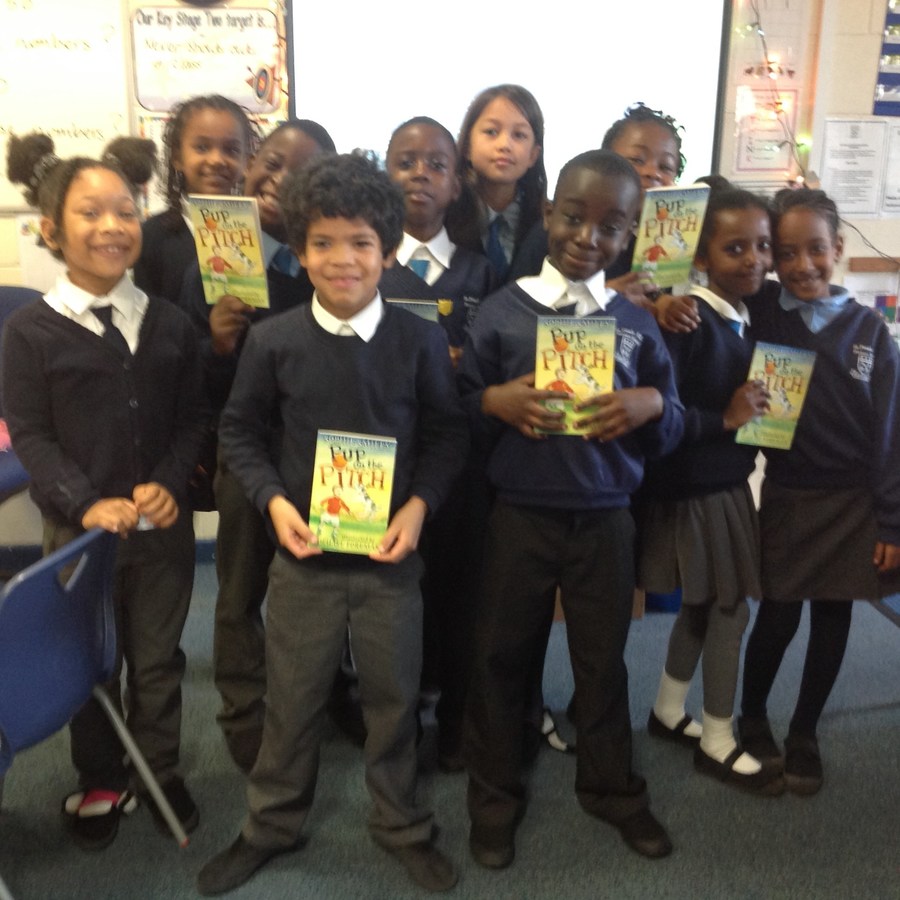 Class have read the story 'Three Trees' by Angela Hunt. They drew their own pictures of the story and made them into a video! They then narrated the text and added music - this is the result!
Romans for a Day
Class 3 had a brilliant time at Murton Park in York, where they all got to be a Roman Soldier for a day. They enjoyed moulding and designing their own oil lamps, as well as writing a Roman contract in Latin and fighting with sword and shield!