Football Club
Mr Robertson runs Football Club for children in Year 5 & 6 after school on a Thursday. The club runs for boys and girls throughout the year - even on those freezing cold Thursday evenings in Winter!
Under 11 Central League Champions 2015-16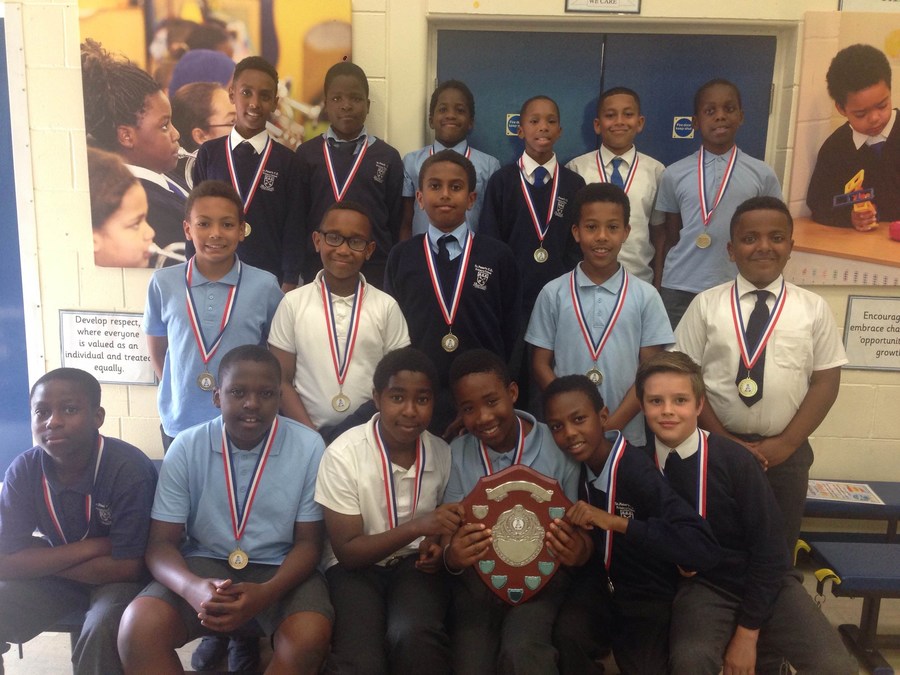 Another Win in the Cup!
On Monday 8th February, the Under 11s football team travelled to Menston, where they played in the next round of the cup against St. Mary's Catholic Primary School. After going a goal behind early in the game, St. Peter's quickly got on top and created a lot of chances. With time running out, Joel Owusu managed to pick out Joel O, who equalised from close range. In extra time, Joel Owusu managed to get on the scoresheet himself, curling in a shot from long range. The game ended 2-1 to St. Peter's and that result puts the school into the quarter finals of the Leeds City Schools Cup. Meanwhile in the league, the boys remain unbeaten and now top the league with a game in hand. Two more games against local rivals, St. Patrick's and Shakespeare await. Hopefully two more good performances are just around the corner. Mr Robertson and Sam Leigh are both incredibly proud of the effort made by all of the boys and girls at football club this year. Together, we really are a winning team!
Fantastic Start!
The Under 11s made a great start to their Leeds Central League campaign with a fabulous 5-1 victory against Shakespeare Primary.
Winning Team!
The school football team started the new year with a 2-1 win in a pre-season friendly, away to Holy Family Catholic Primary School. The team played ever so well and goals from Joel L. and Jonathan were enough to win us the game!
The season starts in just a few weeks and this performance will have helped to build confidence!
Success!
The school's football team played superbly at the Junior Lacon tournament at Thomas Danby on the last Saturday in June. We played four games (2 wins, 2 draws) and qualified for the final, where we lost narrowly to local rivals, but good friends, Shakespeare. It was a brilliantly organised event, enjoyed by all.
Match 2
Following a motivational team talk from Mr Robertson, our winning streak continues and St Peter's successfully beat St Patrick's 4-3!
Match 1
This season has got off to a great start with a resounding win against Shakespeare Primary. The boys played really well and the game ended 5-2 to St Peter's.