God and The Big Bang Trip
Class 5 took part in an exciting workshop at Leeds Minster recently on the subject of 'God and the Big Bang'. We enjoyed experiencing a range of activities led by Christian scientists, who taught us about rainbows, bubbles, fossils and optical illusions. It was a really interesting and informative day and we helped to generate lots of interesting questions about science and religion.
Stardome Visitor
Class 5 had an exciting visit from Mr Lunn and his Stardome. We really enjoyed this experience and learnt lots of new information about our science topic of Space and our history topic of Ancient Greece. We behaved brilliantly and had a fantastic time!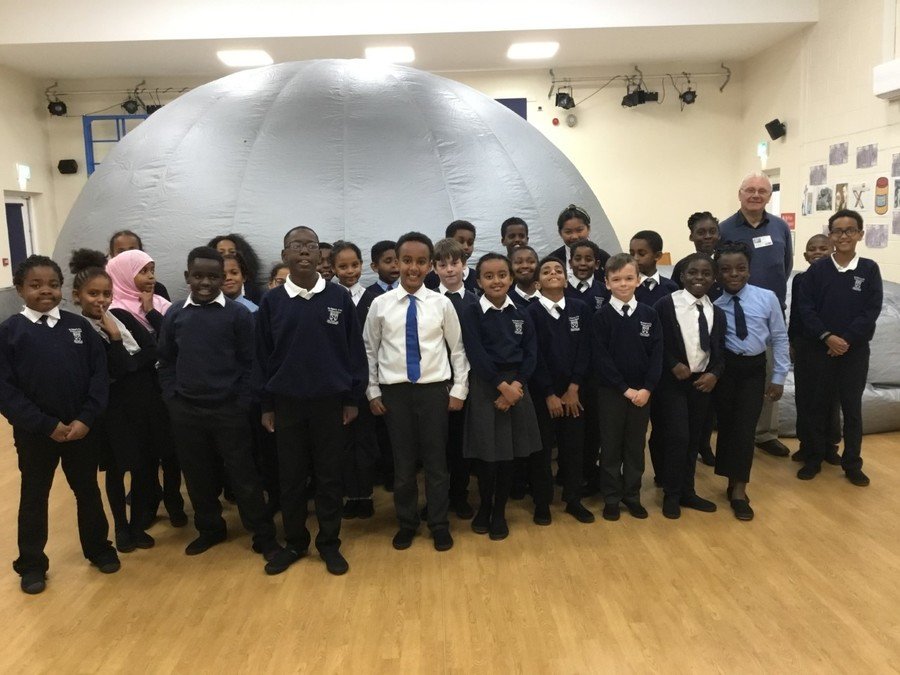 Y5 visit Ripon
In year 5 we were very excited to visit our pen pals at Ripon Cathedral School recently. We spent the morning completing a photo treasure hunt around the school; taking photographs to depict different emotions and exploring their extensive grounds. We then played a fun and friendly game of rounders. What a lovely day!
Brazilian Assembly
Class 5 shared a brilliant assembly about Brazil. They performed a play about the importance of the rain forest and the animals who live there. They also showed us how to dance a samba and sang a wonderful song about the parts of the rain forest.
Into University Day
Year 5 spent a day learning about all the different types of engineering and famous engineers. In the afternoon they became Civil Engineers - designing and building the tallest, strongest structure.
Adventure Day at Herd Farm
Year 5 visited Herd Farm for the day. They took part in some amazing team building activities. They learnt all about orienteering - using maps to find letters around the farm. Everybody was very brave on the Giant Swing and we all had a fantastic day.
Victorians at Abbey House Museum
In year 5, we visited Abbey House Museum to learn more about life in Victorian Britain. We acted as detectives and visited different locations in the Victorian streets to solve a murder mystery. It was lots of fun!
Rewind to Easter
Year 5 had great fun when we attended a workshop called 'Rewind to Easter' at Moortown Baptist Church. We took part in a quiz and interviewed characters from the Easter story. Each child also planted a seed and decorated a flower pot, as we thought more about the importance of new life at Easter.
Online Safety Assembly
Year 5's assembly was all about E-safety and how to stay safe online. They told the rest of the school and the parents about the SMART Rules and how we use these to stay safe.
The Water Cycle
As part of our science work on the Water Cycle year 5 had the opportunity to go to the Education Centre at Headingley Treatment Works on Wednesday 28th November 2018. The children took part in a workshop on linking water and the developing world, focussing on Ethiopia. We were taken on a tour of the water works, learning how water is cleaned.
Ancient Greek Workshop
Year 5 had the opportunity to go to Leeds City Museum for an Ancient Greek workshop on Wednesday 9th December 2018. They spent the morning being transported to Ancient Greece and was able to handle surviving pottery and riches, make a theatre mask, 'whack' a coin and handle mysterious objects. It was a fun and memorable experience.
Spanish Assembly
Class 5 lead their assembly in Spanish. The children shared their Spanish vocabulary on numbers, colours and greetings and could even tell the story of The Enormous Turnip all in Spanish! The children really enjoyed flamenco dancing and singing a Spanish song.
Ancient Greeks
Class 5 visited the Leeds City Museum for an Ancient Greek Workshop. They explored the gallery, learning about the various exhibits, then prepared presentations about what they had discovered. Back in the classroom they handled real artefacts and reflected on their uses in Ancient Greek times. The children also made a coin, as well as doing sketches and rubbings of original Greek coins. The children were fantastic and we had a super day.
Model Solar Systems
As part of their Earth and Space topic, year 5 have been very creative, producing 3D models of the Solar System as part of their learning logs.
International Week
As part of International week, class 5 were learning about life in Japan. The children had a tasting session where we used chopsticks to try Japanese noodles. Most of us thought they were really tasty! We also found out about the importance of Japanese table manners.
Stardome
Class 5 have been learning about 'Earth and Space' for their science topic and the 'Ancient Greeks' in history. To bring these topics alive we had the opportunity to have the ' Stardome Mobile Planetarium' in school. This is a dome which projects 360'. Martin Lunn MBE, who was given his MBE for services to Astronomy and Education, gave us presentations on Earth and Space, constellations and Ancient Greek Myths and Legends. This was a fantastic opportunity for the children to further extend their topic work and learn in a unique way.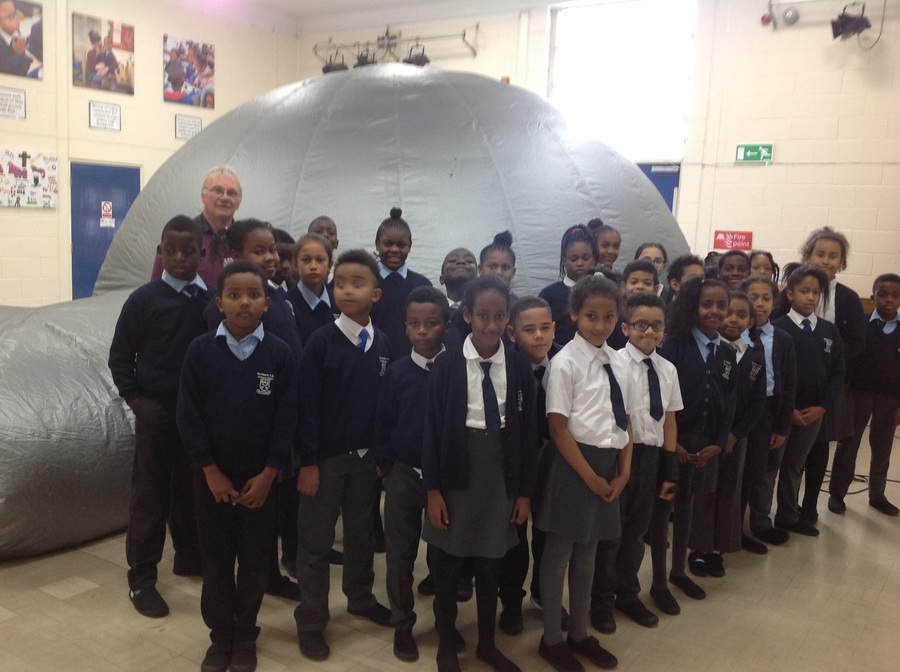 Rewind to Easter
Class 5 visited Moortown Baptist Church to participate in a 'Rewind to Easter' workshop. The children played games, enjoyed some fantastic acting and asked some excellent questions. They also decorated a plant pot and planted seeds, which symbolised the new life of Jesus's resurrection at Easter. It was lots of fun!
Florence Nightingale & Mary Seacole
Class 5 performed their assembly yesterday on the theme of Florence Nightingale and Mary Seacole. They compared and contrasted the two women's lives, performed a poem and sang beautifully! They captured how influential these women truly were.
Assembly
Year 5's assembly was about the myth 'Pandora's box'. The children performed beautifully and the parents were very impressed.
Stardome
Today the children in Class 5 have had a fantastic experience in the Stardome Planetarium. Mr Lunn took the children on a journey exploring constellations and their Ancient Greek Myths. They were able to view photographs from satellites and learn from Mr Lunn's wealth of Astronomical knowledge and experience.
Meroan states, "I will always remember that Venus rotates the opposite way and the days are longer than the years!"
Skipping Day!
The children had a brilliant time learning skipping skills last week, they even learnt to do a criss cross, which they have been practicing in the playground since.
Brazilian Assembly
Class 5 have been doing a topic all about Brazil. For their assembly, the children presented facts and information about all aspects of Brazil, from the Amazon Rainforest to football, to the 2016 Rio Olympics, plus much more. The children performed a Samba (see below) in celebration of the Rio Carnival and played a Samba tune on their recorders (see below). To conclude the children said The Lord's Prayer in Portuguese.
Well done class 5!
Steel Pans
The children have been working really hard and have learnt to play Ebony and Ivory!
Moortown Baptist Church Trip
Year 5 enjoyed a fantastic 'Rewind to Easter' workshop at Moortown Baptist Church. The Easter story was brought to life through story-telling, quizzes and a multi-media presentation. Each child also decorated a plant pot and planted seeds, to reflect the 'new life' of the Easter story.
Visit from a Poet
Class 5 enjoyed a fantastic poetry masterclass led by David Harmer. We initially wrote individual nonsense poems about tables. We also wrote some descriptive animal poems and finally produced a class composition about a visiting UFO! We performed our UFO poem to the rest of the school in our celebration assembly at the end of the school day. What a memorable day!
Victorian Assembly
Class 5 enjoyed performing their assembly based on The Victorians and Oliver Twist. Lots of parents came along and thoroughly enjoyed the assembly, especially the beautiful singing.
Ancient Greeks
In year 5, we recently visited Leeds City Museum as part of our topic learning about the Ancient Greeks. We had great fun exploring the museum and learning lots of interesting facts. We placed events into chronological order, practised making Ancient Greek coins, investigated artefacts and made our own masks. We had a fantastic time!
International Week in Class 5
The children in Class 5 have had a fantastic week learning all about Japan. They have made noodles and wrote instructions on how to make them. They have produced information booklets on Japan and Carp kites to celebrate Children's Day. The class showed great resilience when making origami animals as it was rather tricky. To celebrate the close of International week the children came in traditional clothes and showed their fan dance to parents.
International Week Fan Dance
Class 5 have been learning all about Japan and performed a beautiful fan dance for the parents
This term Class 5 have been learning all about our Solar System. They learnt the names and order of all the planets and even made these amazing Solar System Models at home - they were all fantastic!