Gymnastics was great!
It was our first PE lesson today! It took us a little time to get ready but we tried very hard. We had lots of fun and were great at listening and making different shape with our bodies.
Our first day at school!
We are having a brilliant first day at school. We have played with our new friends and had our lunch. We are having lots of fun!
We're Going on a Bear Hunt
Reception Class enjoyed a fantastic sunny day at Skelton Grange Environment Centre. They followed the Story of the book they have been reading - We're going on Bear Hunt - and had an amazing time looking for bears. On their journey, they went through the dark forest, squishy mud and water, finding lots of minibeasts along the way. They also enjoyed a lovely picnic in the sunshine.
Lotherton Hall
Reception have been learning about Polar animals so we went to Lotherton hall to look at the Humbolt penguins - we had a fabulous time!
Gymnastics
Reception class had their first session of gymnastics, they did lots of careful balancing and jumping and could tip-toe brilliantly across the mats.
Steam Train and Santa!
Reception Class had a fabulous afternoon at Middleton Railway. They had a lovely ride on a steam train with Father Christmas and were so well behaved Father Christmas gave them all a present each.
Reception Newsletter
This is what we are learning about this term.
Reception Newsletter
This is what we are learning about this term.
Our first week at school
We are having a super week at school!
Reception Assembly
Reception Class have been learning the story of the Hungry Caterpillar by Eric Carle. Their assembly was fantastic, they performed some lovely songs and told the story beautifully - the parents loved it!
Reception Visit the Farm
The sun shone when Reception Class visited Hesketh Farm Park. They had an amazing day; feeding lambs, collecting eggs, stroking guinea pigs, holding chicks and playing in the playground, not to mention a tractor ride!
Sponsored Walk
Reception Class had a great time on the sponsored walk, they were all very cheerful and enthusiastic - well done everybody!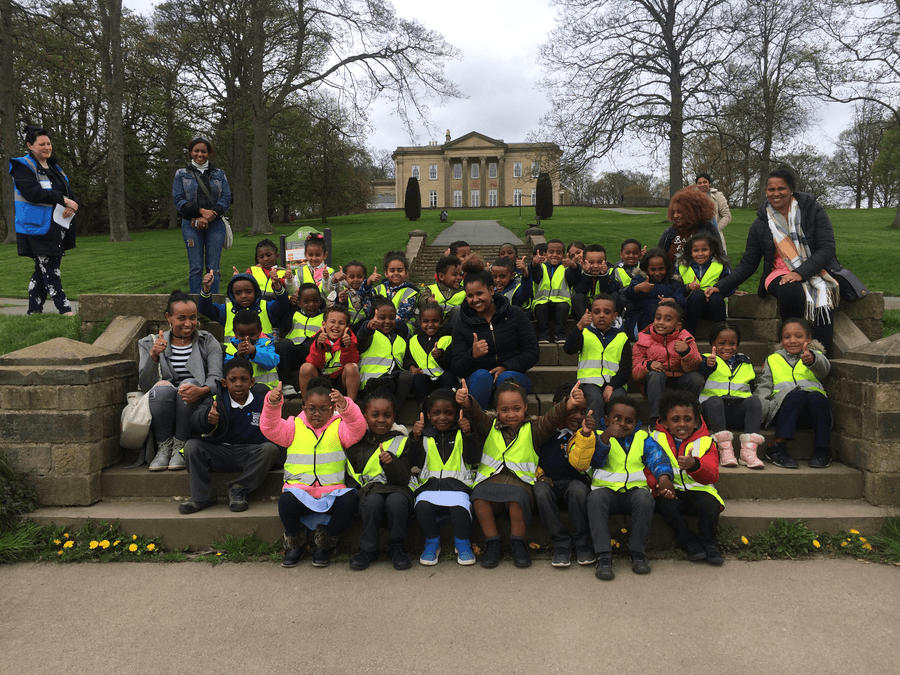 Owl Visitors
As part of our topic about nocturnal creatures we had a visit from 5 real owls. We looked at their special eyes, found out where their ears are and how sharp their talons are. Some of the owls flew across the hall, they were very silent.
International Week
As part of International Week, Reception Class have been learning about England. We made masks of the queen, we counted to 6 with a London bus, we made pictures of soldiers from Buckingham Palace and made jam tarts. We had lots of fun!
Posing for the Yorkshire Evening Post
The photographer from the Yorkshire Evening Post came to school to take a picture of the new Reception children. The children listened brilliantly and all smiled beautifully for the camera. Once the picture is published, we'll send home a copy of the newspaper to all Reception families.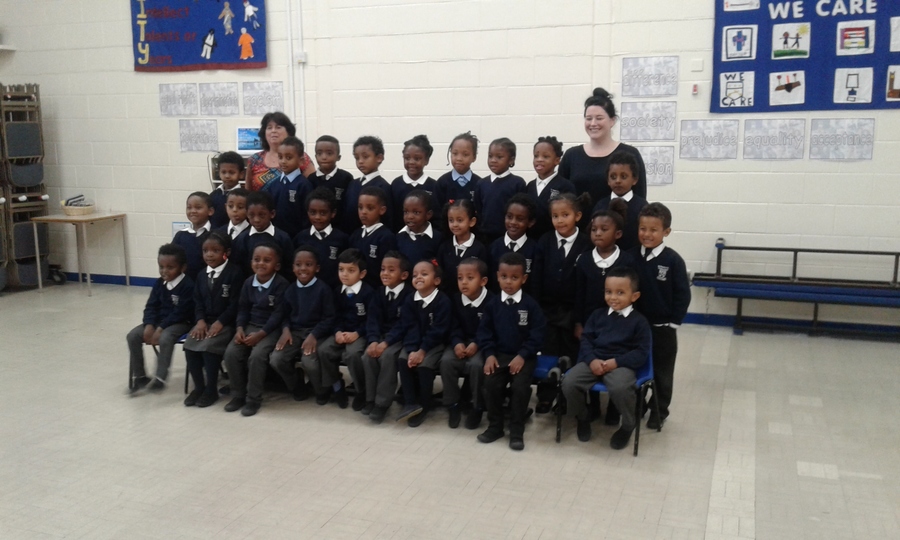 Reception class first day at school!
We are having a brilliant first day at school!
Trip to Hesketh Farm
Reception Class had a fantastic day out at Hesketh Farm. They enjoyed lots of different activities: tractor rides, feeding the lambs, holding the chicks and guinea pigs, as well as plenty of time to play in the playground - what an amazing day!
Parents Visit Reception Class
Reception Class enjoyed a visit from their parents recently. The children shared their library books, which they chose on their trip to Compton Road Library, and the parents also had the opportunity to look at the children's work in their profile books. It was lovely to see so many parents in school.
Reception class visited Compton Road Library
We went on the mini bus to the library at Compton Road. We listened to some stories and then got to borrow a book each to bring back to school. We are looking forward to sharing our books with our mums and dads this week when they come into our class to look at our profiles. We can't wait to go back to the library to borrow a different book.
Hard at Work!
Reception class have been practising their handwriting. They know lots of letters and sounds now.
Porridge!
In Reception, the children have based lots of their learning around the story of Goldilocks and the Three Bears. As part of this they all made some porridge - most of the children really enjoyed it!
Skipping Day!
The children all had a fantastic time learning the basics of skipping and are now enjoying skipping at play time!
It is our first day at school! We are having a brilliant time!