Easter Homework
Children in Year Six have already been given their Easter homework. Throughout the holiday, pupils should make their way through activity packs: E2, E3 and E4 from their Easter folders. They should also read and learn from booklets E1, E5 and E6. During the break, children can still access BugClub, Mathletics, Pobble, SpellAnywhere and TTRS to supplement their learning.
Online lesson-based learning will re-commence at 8:45am on Monday 20th April.
.
Have a lovely break.
Mr. Robertson
Here's one of my favourite Easter songs from Faith Day in 2018, 'Remember Me'. Can you remember it?
https://www.youtube.com/watch?v=nhFBX5ZSySo
.
Hello Class 6!
Click on the links to read messages and information from your teacher.
THURSDAY 26TH MARCH
Please click on the links below to find the work that has been set for today:
TUESDAY 24TH MARCH
Please click on the links below to find the work that has been set for today:

MONDAY 23RD MARCH
Please click on the links below to find the work that has been set for today:
WORK TO BE COMPLETED ON MONDAY 23RD MARCH
Good luck and remember, if you have any problems, you can always use the blog to contact your Year Six teachers.
Fundraising for Robinwood
For the next week, Class Six will be fundraising at playtimes, in the hope of raising at least £100 towards their trip to Robinwood in May. This trip is very heavily subsidised and therefore the children think that this is a great way of showing their gratitude.
Winter Wonderland
In Class Six we have been really busy making Christmas cards, 2020 calendars, snowpeople and Christmas crackers. We've had a really great couple of days and we now have a very christmassy classroom, which we can enjoy for the next few weeks. We hope you enjoy looking at our photos.
Life in Leeds During World War II
On Wednesday 27th November, class six went to Thwaite Mill to learn about what life was like in Leeds during World War II. This work will help us with our topic after Christmas. We learnt all about how the mill was used to make putty during the Blitz, about the Homefront (including rationing) and about evacuation. We finished the day by making a pretend gas mask. It was a fantastic trip!
Coding Workshop
In class Six today, we had a special coding workshop, where we learnt how to use a range of apps, using a variety of codes and algorithms. The session was led by Mr. Harrison from JuniorJam. It was great fun.
Road Safety
In class today, we were visited by Harriet from Leeds City Council, who talked to us all about the importance of traffic calming in our local area. We learnt about the cost of lots of different types of speed controls (crossings, speed bumps and speed cameras) and watched some upsetting videos which showed exactly what can happen when motorists are not fully concentrating on the road in front of them.
Tiramisu Time!
As part of our learning about Italy, Kenean's mum made a delicious Italian dessert for us all to enjoy.
International Week - Italy
Class Six will be learning some facts about Italy this week. We started by doing some map work, where we focused on the difference between north and south Italy and labelled major cities and physical features. We then completed some Roman Numeral activities in numeracy after playtime.
Bolton Abbey Rivers Trip
Class Six spent the day at Bolton Abbey, where they carried out a river study of the River Wharfe. The children created river maps out of natural resources and correctly identified lots of different river features. A great day!
Brilliant Biographies
Class Six have spent the last three or four weeks learning how to write in a biographical style. Each child chose to research and write
about a chosen famous person. Today, we started to publish our work. We can't wait to put them on display around the classroom.
Black History Assembly - 'Inspirational Black Role People'
On Wednesday 2nd October, Class Six delivered a class assembly on the theme of Black History. This year our focus was on 'inspirational role models' and after acting out the roles played by Martin Luther King Jr. and Rosa Parks, we went on to talk about famous black scientists and inventors from around the world, who have each made a huge difference to society. We finished by talking about the short life of Stephen Lawrence and how how every human deserves to be treated with fairness and respect. Thank you to all the parents who helped children to learn lines and to those who came along to watch our performance.
Graduation!
Today the children from Class Six graduated from the University of Leeds after completing a fantastic science week with IntoUniversity. During the graduation ceremony, which was brilliantly attended by parents, the children delivered presentations all about their chosen character with a biological sciences background. We've had a wonderful week.
Thwaite Mill Evolution Trip
Delightful and Delicious DNA
This afternoon, we learnt all about DNA. We discovered that DNA is made up of four chemical base pairs and we then produced a strand of DNA in its twisted double helix shape, using a range of delicious sweets. The day ended with a quiz about DNA facts. Another great day at IntoUniversity.
Another wonderful morning of science
We've had yet another great session at IntoUniversity and this morning we have been completing our first secret mission: writing about four famous biological scientists who each played a vital role in the research behind evolution and inheritance. We have been studying Mary Anning, Charles Darwin, Rosalind Franklin and Rick Kittles. This afternoon we'll be using sweets to make our own DNA!!
Famous contributors to biological sciences
This afternoon we split up into teams and completed a secret mission, preparing a piece of written work about a famous person who worked in the field of biological sciences and contributed a great deal to the study of Evolution and Inheritance. These pieces will be presented to an an audience at our graduation at the University of Leeds this Friday.
SUPER SCIENCE - IntoUniversity - DAY ONE!
We've arrived at IntoUniversity Leeds East for the first day of our unit on Evolution and Inheritance. This morning the children are completing a carousel of activities on many different aspects of evolution, inheritance and adaptation. Children looked at how whales have adapted blubber over time to withstand freezing cold ocean temperatures. They also carried out a test where they taped their thumbs to a finger and carried out simple task (undoing buttons, tying laces and unscrewing bottles) to show how important all of our digits are to mankind. Another group completed the 'Evolution Revolution' quiz which enabled them to showcase their knowledge of evolutionary changes over time, with a key focus on plant and animal DNA. The final group learnt all about the genes and traits that we inherit from parents.
Prevent Workshop
As part of our school's PSHCE work, Class Six were joined by a special visitor from the 'Just Enough Group', who delivered a very important session about radicalisation and the influences in our world that can seriously affect our judgement. We learnt about tolerance of all people and discussed positive ways in which problems can be solved in society. We discussed the important role models, who throughout history, have influenced people in the right way and to this day, remain positive role models to all.
Gym Time!
In P.E. this week, Class Six have started their 'Real Gym' unit. We had great fun using the apparatus in various different ways.
Year 6 Synagogue Visit
Class Six visited the Etz Chaim Synagogue, where they learnt all about the Jewish faith. Whilst they were there, they were given a full guided tour and were able to learn all the features of the synagogue to consolidate the learning they had done back at school. It was a lovely visit!
Dinner Time
Miguel and Filly were chosen to sit at the teacher's table (and eat the teachers chips!) because of their excellent behaviour and attitude this week!
Day 2 - Breakfast is served..,..
Ready to Depart
We're all set and raring to go. Three exciting, action-packed days await. Keep checking the website for our photo updates.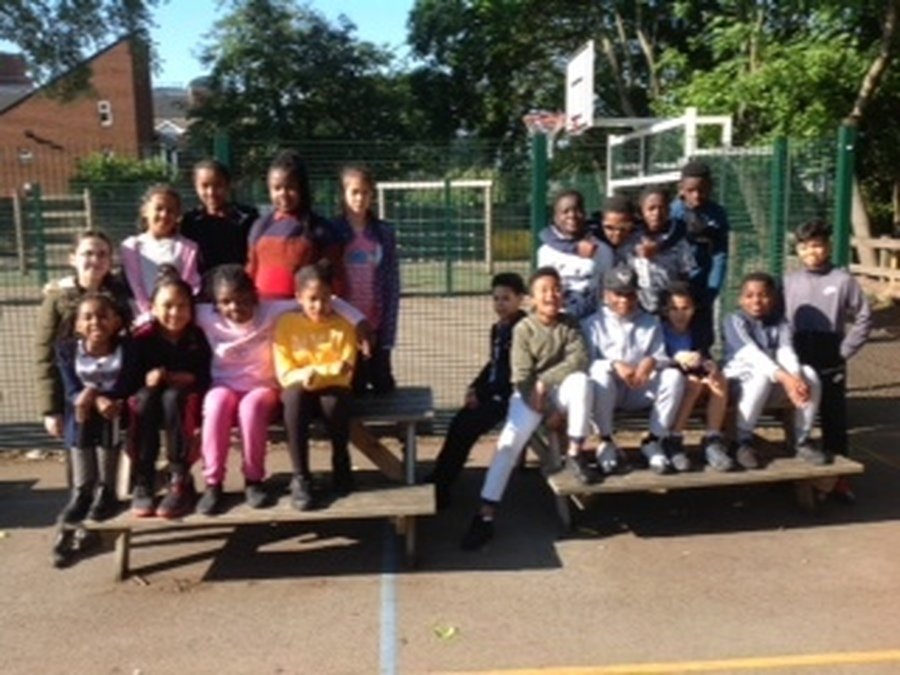 SATs Breakfast Club
Year 6 are all in high spirits as they tuck into their special SATs breakfast. Good luck everybody!
What is Stress?
To help the children to keep calm and relaxed ahead of their SATs tests, two visitors from Mellow Nest came and carried out a session all about stress. We learnt about the different parts of the brain and how they behave when we encounter stressful situations. We did an activity where we had to sort out situations that are the most or least stressful to us. We then tried out some meditation, where we focused on breathing. Finally we created a class action plan which we can use to help us stay calm and sleep well before the test week.